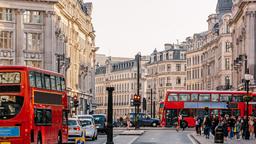 Let KAYAK do the searching
Most popular boutique hotels in London
Top tips for finding boutique hotels in London
For boutique hotels in London that offer a unique guest experience, consider staying at Ham Yard Hotel, Firmdale Hotels in Soho. Centered around a tree-filled terrace, the five-star hotel provides an urban village atmosphere, complete with 13 independent stores and a restaurant with outdoor dining. The chic guest bedrooms offer luxury amenities, while the hotel also provides a fitness center, spa, cinema, and a 1950s bowling alley.
When it comes to impressive boutique hotels in London, Kimpton Fitzroy London does not disappoint. This Grade II–listed building is a landmark of Russell Square in Bloomsbury, steeped in history. Although the exterior has striking terracotta architecture, inside the five-star hotel you will find contemporary décor. If you're a fan of marble interiors, you will be in your element as soon as you enter the foyer—a spectacle of marble walls, marble pillars, and a stunning marble mosaic floor.
Set in a Grade II–listed building, The Lalit London offers lavish rooms and suites, all with a unique design and layout. This upmarket boutique hotel provides five-star accommodation, along with a spa and a 24h fitness center. There are also two restaurants, a bakery, and a tea lounge, plus two sophisticated bars.
As the former Midland Bank building in London, The Ned is the ultimate boutique hotel, complete with a brilliant selection of facilities. Boasting 10 restaurants, a rooftop pool, and a range of women's and men's grooming services and other wellness facilities, this five-star hotel promises to deliver a luxury stay. Guest rooms are classy with Edwardian décor, providing total comfort with their blackout blinds and marble mosaic en-suite bathrooms.