You're Going to Love Niagara Falls
Niagara Falls offers experiences unlike any other vacation destination in America.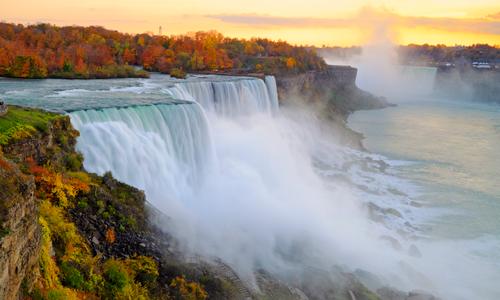 Imagine standing on the viewing platforms above Niagara Falls, the waters of the Niagara River crashing down 180 feet and sunlight creating a rainbow in the water as it cascades to the valley floor below.
Take a river cruise to the base of the falls and see as the peaceful water crests the rim and turns into a raging torrent, or stand in the Cave of the Winds and feel the power of the falls as they rush past.
Then, take it easy in one of the country's premier tourist destinations. Enjoy a drink at Players Sports Bar, take a wine tour, gamble at the Seneca Niagara Resort, or play a few rounds at Hyde Park or Seneca Hickory Stick golf courses.
Few places in the world blend the majesty of nature with such a warm welcome for tourists, so make Niagara Falls your next vacation destination.
Top 5 Reasons to Visit Niagara Falls
1. The Falls
Really, there's only one reason most people visit Niagara Falls. The waterfalls that flow between Canada and the United States are one of the wonders of the natural world, drawing newlyweds, families, and nature lovers alike.
2. Canada
Vacationing in Niagara Falls (NY) makes it easy to visit Niagara Falls (Ontario), while Toronto is just an hour away by car. Some of the best views of the falls can be seen from the Canadian side meaning everyone should take the opportunity to hop across to Canada if they can.
3. Shopping
Niagara Falls (NY) has some fantastic shopping opportunities. The Fashion Outlets of Niagara Falls are the major attraction for bargain hunters, with a massive array of outlets featuring big names like Ralph Lauren and Zara.
4. Fireworks and Illuminations
The falls themselves are magical, but they look even more beautiful when accompanied by firework displays and illuminations. Between May and October, fireworks displays are organized in Queen Victoria Park, while light shows pierce the night sky until midnight all year round.
5. Romance
Over the years, Niagara Falls has gained a reputation as being one of America's most romantic cities. Local hotels offer special packages for couples, and chapels in the city provide a Vegas-style marriage service for brides and grooms-to-be. Ride the SkyWheel, take a wine tour and relax in bridal suites for a romantic escape like no other.
What to do in Niagara Falls
1. Take a Tour of the Falls
The majestic waterfalls of Niagara need to be seen to be believed, and the best way to do so is by booking a guided tour. The most engaging is probably Dare Devil Tours who, as the name suggests, provide tales of the people who tightrope walked above or deliberately plunged from the top of the falls.
2. Take a Helicopter Ride
Walking tours are great, but if you want to see a panoramic view of the falls, a helicopter ride is unbeatable. Head across the border to Niagara Helicopters Limited in Ontario for the flight of a lifetime.
Enjoy a Cruise on the Maid of the Mist
Another way to experience the falls is from their base, and the best way to do so is by taking a cruise on the Maid of the Mist. A craft by that name has been exposing visitors to the spray from the falls since the 1840s. Now in its fifth version, the tour remains as wet as ever. Thankfully, waterproof overalls are provided free of charge.
Descend to the Cave of the Winds
Located on Goat Island, the Cave of the Winds is a cavern beneath Bridal Veil Falls. What makes it so special is how close visitors can get to the torrent of water as it plunges over the falls. It's an incredible experience of nature's raw power.
Cross the Border to Canada
One of the best things about Niagara is its closeness to Canada. Hop across the border to visit family attractions like Waves Indoor Water Park or venture further afield to Toronto if you have access to a rental vehicle. Some of the best views of the falls are also to be found on the Canadian side at locations like Queen Victoria Park.
A popular activity in Niagara Falls
Classic All American Tour of Niagara Falls
Find activities
Top activities in Niagara Falls
Maid in America Tour of Niagara Falls: USA side with Maid in the Mist Ride
Duration: 4h - 5h
Best of Both Niagara Falls  American/Canadian Tour
Duration: 5h - 6h
Guided Kayaking Tour on Niagara River from the US Side
Duration: 3h
Niagara Falls USA and Underground Railroad Heritage Tour
Duration: 3h
Best of Niagara Falls, USA with Maid of the Mist and Cave of the Winds
Duration: 4h
Maid of the Mist, Cave of the Winds, History Tour and More!
Duration: 5h - 6h
When to Visit Niagara Falls
Summertime is the best time to visit Niagara Falls, but it's also peak tourist season. If you can deal with the crowds and don't mind paying peak prices, visiting between July and August is ideal. On the other hand, a Christmas break can also be appealing, with the Winter Festival of Lights on the Canadian side of the border. Winter can be pretty cold, although spring comes quickly between March and May - a good time to snap up affordable accommodation and enjoy some fine weather.
How to Get to Niagara Falls
Plane
Buffalo-Niagara International Airport is around half an hour from Niagara Falls, and it's easy to transfer from there to local hotels. Buffalo Airport Shuttle provides a private transfer service for just over $20 per person (based on a family of four). You can also arrange taxis from the airport, which can cost as little as $10 per head if you are traveling in a large group.
Train
Niagara Falls Amtrak station is served by two passenger rail services. The Empire Service starts at New York's Pennsylvania Station and terminates at Niagara, while the Maple Leaf runs between New York and Toronto. Expect the journey from New York to take around 5 hours.
Car
Niagara Falls is easily accessible by car. If you are coming from the west, take I-90 along the shore of Lake Ontario. The same road also links Niagara Falls with New York, although you will need to take I-87 to Albany before switching to I-90. If you are coming from Toronto, just take Queen Elizabeth Way straight to the border.
Bus
If you intend to travel to Niagara Falls by bus, the best option is to book a Greyhound service. Greyhound run buses from most northeastern cities, including New York, Buffalo, Boston, and Philadelphia, and their terminal is outside the Quality Hotel at 240 First St.
Airports near Niagara Falls
Airlines serving Niagara Falls
Show more
Where to Stay in Niagara Falls
Niagara Falls is one of America's most popular tourist destinations, so there's no shortage of places to stay, with options to suit most budgets and needs. A good affordable choice with old world charm is the The Red Coach Inn, where you receive free champagne, fruit, and cheese on arrival. For students and backpackers few places can beat the Wanderfalls Guesthouse, with cheap dorm beds. At the other end of the scale, the Best Western Summit in provides a luxury service and stunning views of the falls.
Popular Neighborhoods in Niagara Falls
Downtown Niagara Falls – The best place to stay if you want to be within easy walking distance of the falls themselves, the Downtown district is also the area with the most hotels and restaurants. It includes the Tourism and Convention Center, as well as Indian eateries like Zaika and Kohinoor.
Goat Island – Located on an island in the Niagara River, Goat Island is the place to head for the best views of Niagara Falls. Take stunning vacation pictures at viewing platforms like Terrapin Point and descend into the Cave of the Winds beneath Bridal Veil Falls then top it all off with a meal at the Top of the Falls restaurant.
Cayuga Island – A peaceful island just to the southeast of the Falls, Cayuga is the place to go to unwind and relax. It's also closer to the airport than the Downtown district. Check out the variety of motels along Route 62 or riverfront accommodation options like the Anchor Motel for alternatives to town center lodging.
Where to stay in popular areas of Niagara Falls
Most booked hotels in Niagara Falls
How to Get Around Niagara Falls
Public Transportation
Niagara Falls Transit runs a local bus network that might be useful for tourists (although the center of town is small enough to be covered by foot). Regular fares are quite expensive at $2.75, but day passes for $7 can be economical.
Taxis
Taxis in Niagara Falls (NY) charge a base fare of $2.75, plus $3 for every subsequent mile.
Car
If you plan to stay in the city of Niagara Falls, renting a car isn't necessary. However, if you intend to visit nearby cities like Buffalo, Rochester, or Toronto, it makes sense to have your own vehicle. Parking shouldn't be a problem near the tourist sights. Just look for State Parking Lots that are dotted along the river (a day pass costs $25).
The Cost of Living in Niagara Falls
Shopping Streets
Because the city attracts so many international visitors, Niagara Falls has plenty of shopping malls, offering a choice of boutiques and discount outlets. The biggest of them all is Fashion Outlets of Niagara Falls. Located near the airport, this mall is the place to go for big names like Gap, Ralph Lauren, and Sak's Fifth Avenue - all at discount prices. Other major shopping centers include Pine Plaza and Niagara Consumer Square.
Groceries and Other
Buying groceries in the center of Niagara isn't a problem. You'll find branches of Tops and Save-a-lot scattered around town, while there's a Walmart Supercenter next to the Fashion Outlets Mall. Grocery prices in the city are reasonable. Expect to pay $2.50 for 12 eggs and $1.75 for a pound of apples.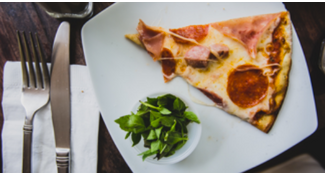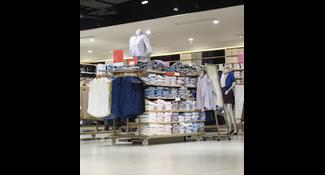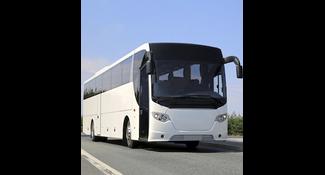 Single public transport ticket
$3.33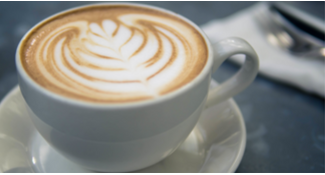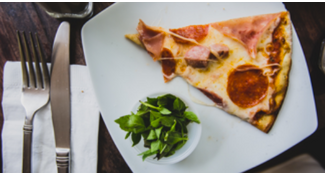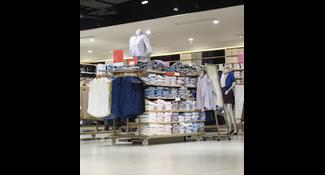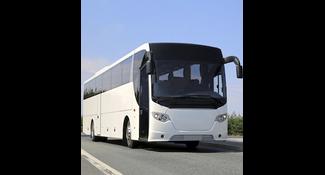 Single public transport ticket
$3.33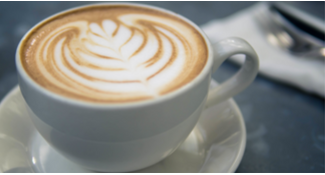 Where to Eat in Niagara Falls
Choosing where to dine out in Niagara Falls isn't simple, with hundreds of restaurants vying for your attention. Some of the finest high-end eateries include Fortuna's on 19th Street, which serves Italian dishes like gnocchi and ravioli, El Cubilete, a Mexican place on Niagara Falls Blvd, and Top of the Falls on Goat Island. For cheaper eats, Kohinoor Indian Restaurant offers a wide range of spicy dishes, Polish Nook serves up Eastern European cuisine, while Mighty Taco is the town's number one street food outlet. Expect to pay around $15 for a good sit down meal and anything above $30 per head at the most expensive restaurants.