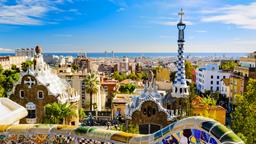 Barcelona boutique hotels
Let KAYAK do the searching
Most popular boutique hotels in Barcelona
Top tips for finding boutique hotels in Barcelona
Yurbban Passage Hotel and Spa is a boutique hotel in Barcelona that has retained much of its mercantile past and merged it into a modern accommodation in the heart of the city with Standard, Premium, and Premium Terrace guest rooms. It also has a rooftop deck with city views, a world-class restaurant with a Michelin-star chef, and its own attraction: Passatge de les Manufactures.
Similarly, Hotel 1898 in the La Rambla district exudes a colonial heritage and ambience, with architectural pedigree befitting a Specialty Monument, which makes it another first-class boutique hotel in Barcelona. Each of the 169 guest rooms are furnished in the style of the period with marble bathrooms. Additionally, there is a rooftop sun terrace (La Isabela) with a pool, while El Nido restaurant serves fine Catalan cuisine.
All 28 guest rooms at The Serras Hotel Barcelona are soundproofed and come with private terraces overlooking the city's Gothic Quarter. The original façade of the building associated with the master Pablo Picasso is still intact, and the property is about 10min from the museum that bears his name. This hotel also features a mezzanine library and bar, as well as a rooftop terrace.
Perhaps the "tropical modernism" of Hotel Brummell, where the exotic and the Nordic blend into an urban oasis, is worth a look. The 20 rooms at this boutique hotel in Barcelona are adorned with modern European character, and hotel guests are offered complimentary and unlimited yoga classes, as well as other amenities like a sauna, outdoor pool, onsite restaurant, and a self-serve honesty bar.