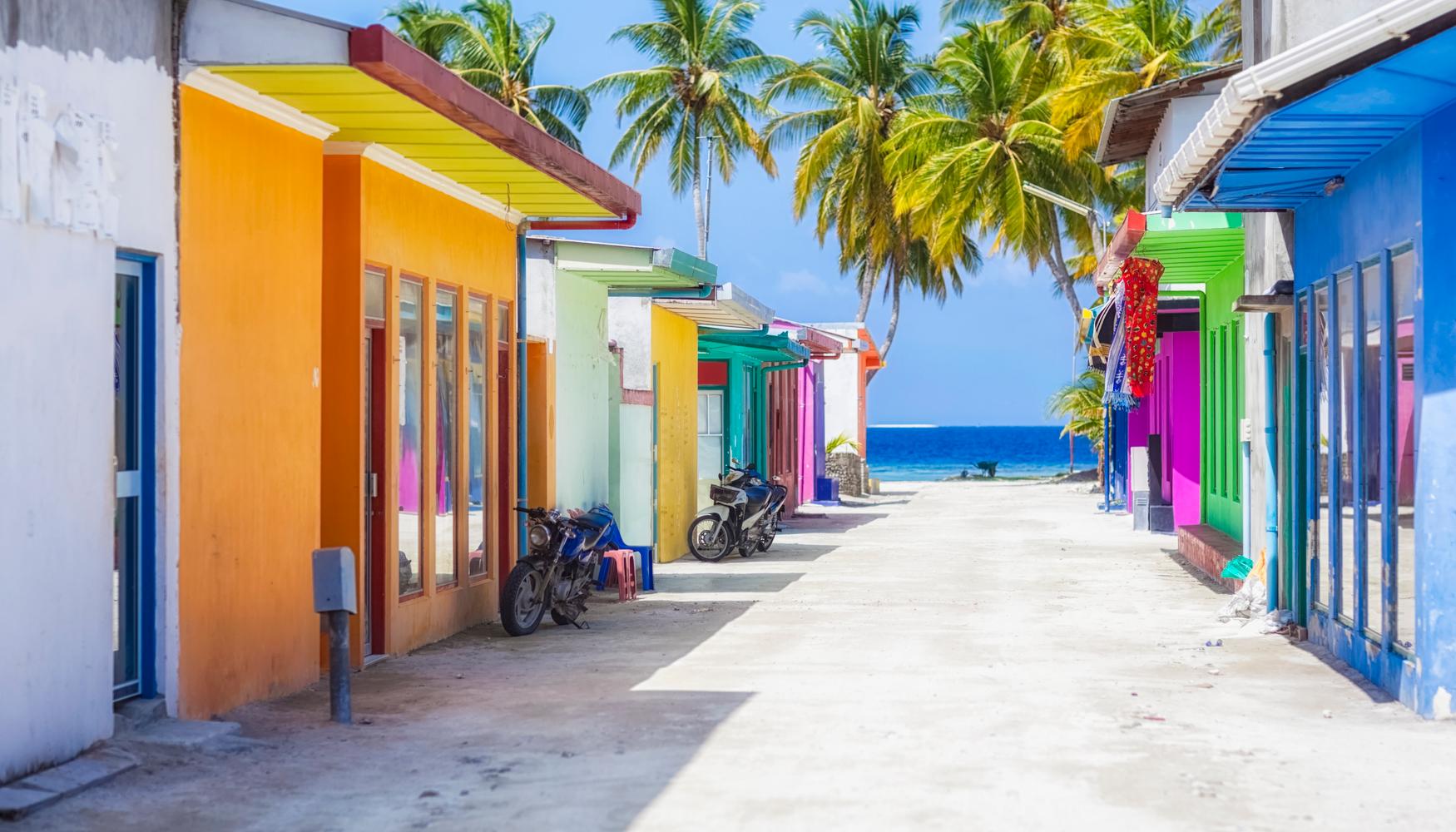 You're Going to Love Maafushi Island
Maafushi is a beautiful island in the Maldives with a total population of just over 2,000 people. Tourism drives the local economy, with over 50 guesthouses in the region. The area is world-renowned for its sandy white beaches, blue ocean, and alluring coral reefs.
Since the tsunami in 2004, the area has undergone massive restructuring, with a majority of the population switching from fishing to being directly employed in the tourism industry. Here, the hospitality is heartwarming, the beaches are stunning, and the tropical climate will put you in a holiday mood.
Top 5 Reasons to Visit Maafushi Island
1. Sandy Beaches
The highlight of the holiday season in Maafushi is the warm, sunny weather, and the sandy white beaches where you can lie down to bask and relax. A walk along the sweeping waters by the shore while collecting seashells can be quite refreshing.
2. The Delicious Local Cuisine
Being an island country, the local cuisine is comprised primarily of seafood such as fish served with grated carrots, soup, and rice diced with lemon. Head to the restaurant Kaalamaa to sample some of the finest.
3. Water Sports
If you like your adrenaline levels pumped up once in a while, then try out sporting activities such as windsurfing and kitesurfing here with Active Watersports Maafushi. All the safety procedures are implemented, making it a must-try experience.
4. Lounge Around at Bikini Beach
This is a designated beach for tourists away from the public beach, which is a little more conservative. At this beach, you can sunbathe in a bikini, which is otherwise restricted at the public beach.
5. Souvenir Shopping
Weaving is a prominent local custom, and fabrics are designed and loomed into fabulous pieces of cloth using methods that have been passed down through various generations.
What to do in Maafushi Island
1. Island Day Trip from Hulhumale
Join two tour guides on a one-day trip to the islands of Huraa and Himmafushi. The tour sets off from the Hulhumale jetty, departing in a speedboat that is assigned a boat captain.
2. Ride Underwater Scooters
Scuba diving and snorkeling are both very physically demanding underwater activities. However, if you wish to cruise as you marvel at the beautiful underwater sceneries, then a mechanical underwater scooter is a perfect choice.
3. Go Diving with Sharks
The shark diving school in Maafushi will provide trained divers, who will take you on an up-close dive next to specific shark species such as the shortfin mako shark and the thresher sharks, which are abundant in this region.
4. Floating Bars
Maafushi is a conservative region where alcohol consumption is prohibited for the local Muslim population. If you fancy a drink at the end of a long day of touring various attractions, then there are special boats with liquor licenses, such as the Floating Bar and Safari, where you can enjoy a tipple.
5. Kayaking
Some resorts offer kayak training alongside other courses such as sailing. You can then rent a kayak and paddle around the reef.
When to Visit Maafushi Island
It is best to visit Maafushi Island between the months of January to April seeing as there is no extensive rainfall coverage during this time, which means that you can walk around in your beach attire in the warming sun. The temperature is generally recorded at highs of 87.8 and lows of 80.6 on average.
How to Get to Maafushi Island
Plane
The nearest airport lies in the capital, Male. There is no road connection between Male and Maafushi Island, but you can take a sea plane. Most are owned by the Maldivian Airways, and they are basically air taxis that are on standby at the airport to ferry tourists to their hotels in Maafushi Island in approximately 30 minutes.
Boat
A ferry services runs between Male and Maafushi Island and takes about two hours to get from the airport to your resort. All you need to do is head to the terminus and pay for your ticket before boarding the next available ferry. Tickets cost MVR31. Alternatively, you can also book a private speedboat, though advance bookings are generally required. Speedboats will make the trip in an hour.
Airlines serving Maafushi
Show more
Where to Stay in Maafushi Island
Maafushi Island is not short of wonderful 5-star, 4-star, and excellent 3-star resorts such as the Kaani Grand Seaview, Shadow Palm Hotel, Kuredhi Beach Inn, and 3 Palm, all of which are fairly priced. If you are not shy of spending top dollar on accommodation, then perhaps the Arena Beach Hotel will interest you. The northern part of the island is filled with hotels and restaurants and is a good area to base yourself in. Head to Husnuheena Magu Road for a host of eateries.
Where to stay in popular areas of Maafushi
Most booked hotels in Maafushi
How to Get Around Maafushi Island
Public Transportation
There is no public transport service on Maafushi Island. The iCom office houses a transport company that allows you to book small private ferries at a cost of about MVR1,395 for a group of eight to make excursions to neighboring islands such as Villingili. Alternatively, they can be deployed to transport you to your desired destination.
Bicycles
Locals here use bicycles to get around, with most of them licensed by the municipality to take tourists from one point of the island to the other at a cost of MVR15. You can also rent one to ride around the island for about MVR54 a day.
The Cost of Living in Maafushi Island
Shopping
Mirihi Magu road has some of the best souvenir and bikini shops, as well as restaurants. Here, you can buy anything from coral shells to a sea turtle sculpted from lacquered wood.
Supermarkets and Food Stores
There is a fish market on the beach where you can buy tuna and tilapia. If you are looking for groceries along with other foodstuffs and general commodities, then the Land Pro supermarket has everything you are looking for, from packed noodles retailing at MVR15 to lotions and sunblock going for MVR45 to MVR62. You can also buy fresh tomatoes, onions, and other vegetables.
Where to Eat in Maafushi Island
Pizza & Pasta Mamma Mia serves Italian fare, and it has a coffee shop adjoining it. This eatery focuses on traditional forms of cooking such as preparing the pizza on a charcoal grill; you'll pay MVR125. Summer Kitchen and Bakery is a sand-floor restaurant with a vibrantly lit interior adorned with bright lights. You can literally take your shoes or sandals off as you step on the beach beneath your feet while eating fresh pastries such as black forest cake, which costs MVR30 a slice.