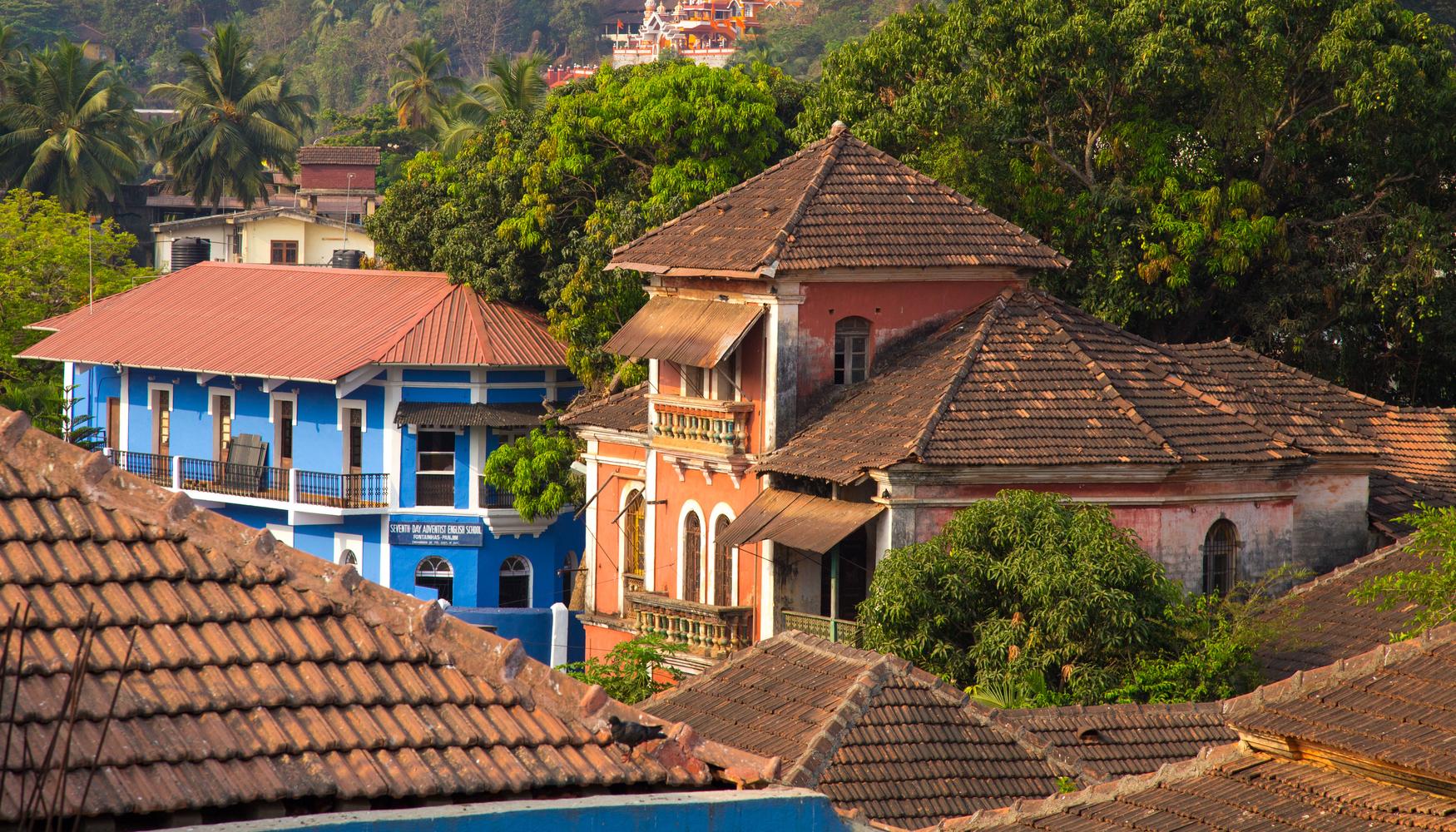 You're Going to Love Panjim
Panjim - also called Panaji - is a charming blend of modern India and the country's classic roots. It is surrounded by green, terraced hills and overlooks the Mandovi River. With cobblestone streets and colorful villas that date from the Portuguese colonial period, a Latin quarter, and floating casinos on the river, the capital of the state of Goa offers a variety of experiences for a small city of just under 115,000.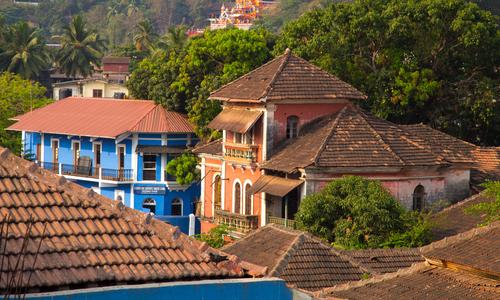 Top 5 Reasons to Visit Panjim
1. Historic Architecture
The city is home to many examples of graceful architecture, including the ornate Our Lady of Immaculate Conception Church and the bright orange Maruti Temple.
2. A Quiet Culinary Capital
Without a lot of fanfare, Panjim has a centuries-old culinary tradition that results in world-class dining options, including spicy traditional Goan cuisine and Portuguese favorites leftover from colonial days. With the bounty of fertile agricultural lands and the rivers and oceans nearby, the food is fresh and flavorful at popular restaurants like Viva Panjim and Daawat.
3. The Latin Quarter
At the foot of the Altinho Hill, the Latin Quarter or Fontainhas was established by a Portuguese colonialist in the late 18th century. It retains much of its Portuguese character and could be mistaken for a Mediterranean town, with its many red-tiled roofs and narrow streets.
4. Natural Beauty
Panjim is set in a green, fertile area that can be explored in a variety of ways, including exciting jungle excursions. There are numerous hiking and trekking options, with many local guides and operators available to help.
5. Life on the Water
From golden beaches to cruises and boat tours, the rivers and nearby Arabian Sea are waiting to be discovered. World-class scuba diving and barracuda diving are also available for the more adventurous.
What to do in Panjim
1. Go to the Beach
Miramar Beach on the Arabian Sea is made up of soft, golden-colored sand dotted with palm trees. It's a popular escape from the city for visitors and locals alike. Dona Paula, another beach, lies just outside the city where the Zuari and Mandovi rivers meet. Many Bollywood films have been shot there. Ashwem Beach is a third, and often less busy, option nearby in North Goa District.
2. Check Out a Floating Casino
India's only legal casino is also a cruise boat on the Mandovi River. Casino Caravela offers a variety of gaming choices, including American Roulette, with sightseeing along the river to take up any down time.
3. Goa Science Centre and Planetarium
This large center includes many exhibits and interactive installations and is located near the Miramar Beach. There is also a 3D movie theater that screens interesting educational science films.
4. Bird Watching
Along with taking walks in the lush surrounding area to enjoy the natural setting, the Salim Ali Bird Sanctuary is located nearby in the village of Chorão. It houses a large collection of exotic and rare birds in a beautiful natural setting.
5. Take in Old Goa
Old Goa is just 6 miles from Panjim. Once the colonial capital of Goa State, is is full of ornate old churches and other historic buildings that have been well maintained. Old Goa is listed as a UNESCO World Heritage site.
A popular activity in Panaji
Divar Island: Local Goan Village Tour with Traditional Lunch
Find activities
When to Visit Panjim
With very hot summer temperatures that routinely reach over 90 degrees Fahrenheit from February to May, and monsoon season from June through August, many foreign visitors choose to come during the cooler fall months, from September to January. Peak season is December to January. Many visitors also come for the colorful Diwali celebrations, which fall in October or November each year depending on the lunar calendar, or the carnival in February, featuring a large parade along the streets.
How to Get to Panjim
Plane
The closest airport is located at Dabolim, about 22 miles from Panjim near the city of Vasco da Gama. International connections are available through several European-based airlines. The nearest buses into town are available at Chicalim Junction, about 1 mile from the airport. The best option to get into town is a taxi at a cost of about Rs. 945.
Train
Some local trains pass through Karmali station (KRMI), which lies about 6 miles east of the city. A taxi into town from here costs about Rs. 300, but be sure to negotiate your price in advance. Express trains, including the major Konkan Railway lines, run through Madgaon Junction, about 28 miles south of Panjim.
Car
National Highway 17 (NH17) runs through Panjim and connects the city to Mumbai via the NH4. The NH4A is reportedly in a state of neglect and not recommended for foreign drivers. In general, those not experienced with Indian roadways should exercise caution when driving in the region.
Bus
Panjim is connected to nearby Karnataka and Maharashtra states by a variety of bus services. State-run buses are cheap but will make many stops and do not feature air conditioning. Private bus service is available to Mangalore, Mumbai, Bangalore, Pune, and Hyderabad at a bus stand at the Mandovi Bridge, with buses running from about 4 p.m. to 10 p.m.
Airlines serving Panaji
Show more
Where to Stay in Panjim
Panjim offers a variety of accommodation options. At the Surya Kiran Heritage Hotel, visitors can stay in historic grandeur, with a balcony in every room. The Hotel Mandovi is a 50-year institution in the city, with opulent and colorful decor. The Crown Goa offers modern luxury in a spa-hotel-casino resort. The best areas to base yourself in include the center, the historic heart of the city where you will find many of its architectural treasures such as the Mahalaxmi Temple, and Margao, the cultural and commercial center of the city and home to a nightlife scene of clubs such as the Bollywood Club and Cafe Mambos.
Where to stay in popular areas of Panaji
Most booked hotels in Panaji
How to Get Around Panjim
Public Transportation
The main form of public transportation in the city is the auto rickshaw or tuk-tuk. A ride on the yellow and black, three-wheeled vehicles will cost about Rs. 50 for a short trip and up to Rs. 100 for a longer ride across town.
Taxis
Taxis are plentiful throughout Panjim and available for all-day excursions starting at about Rs. 1,500. You should negotiate your price in advance. Motorcycle taxis are typically about half the price of a car.
Car
Hire cars are available at the airport starting at about Rs. 3,600. A car can be a good way of exploring the area for experienced travelers and those familiar with driving in India.
The Cost of Living in Panjim
Shopping
18th June Road is the major shopping street in the city, with an air-conditioned, three-floor department store, and many shops selling local textiles, jewelry, and other wares. The Panjim Market, with a vast array of goods on sale from clothing to housewares, is located in the city center.
Supermarkets and Food Stores
There are a number of independent grocery stores in Panjim, including Magsons Hymart in the Caculo Mall on St Inez Rd., with well-stocked shelves. Braganza Stores is located in the Panaji Market, with a full range of goods on sale. A quart of milk costs about Rs. 43, with a dozen eggs at about Rs. 65.
Where to Eat in Panjim
There are restaurants at every price point available in Panjim, typically ranging from about Rs. 200 to Rs. 1000. Viva Panjim is popular with tourists, dishing up local cuisine in an old colonial house. For contemporary European-style cuisine, the Black Sheep Bistro offers a tapas menu in a fashionable dining room and lounge. Hotel Venite lets you dine on traditional Goan favorites with a location on a charming cobbled street.
Other popular cities in Goa