You're Going to Love Haikou
With approximately 2 million inhabitants, Haikou is the capital of the Hainan province.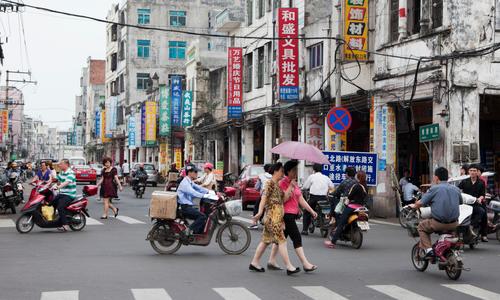 The region's tropical climate makes it an ideal tourist destination with many must-see landmarks dotted throughout plus national parks where you can spot different types of animals. The landscape is somewhat mountainous owing to the region's volcanic cluster rocks, which have also formed caves and craters.
With sacred temples to wonder at and even an abandoned village, Sangqing, to wander through, it's easy to lose track of time in Haikou.
Top 5 Reasons to Visit Haikou
1. Step Back in Time
History weaves throughout sites like Wugong Temple (the Temple of the Five Lords). It was constructed during the Ming dynasty as a dedication to five officials who served under the emperor but were banished because they criticized the regime at the time. Wenchang Confucius Temple, located about an hour outside of Haikou, is also worth a visit.
2. It's a Great Starting Point to Explore Hainan
From Haikou, you can head south to Sanya and its stunning beaches by high-speed train. If you're feeling more adventurous, you can check out Hainan's Central Mountains, where you can hike and mountain bike through incredible scenery.
3. There are so many Parks to Unwind in
Haikou is awash with green. If you need a place to chill, Haikou has you more than covered. You can indulge in a massage at Xiuxiu Beach Park, enjoy the Spring Festival lanterns at Evergreen Park, or feed the gorillas at Golden Bull Mountain Ridge Park.
4. Discover your Inner Geologist
The enormous Shishan Volcanic Cluster National Geopark region is filled with volcanic cluster rocks that erupted about 10,000 years ago. 40 volcanoes and 30 caves are scattered throughout the area.
5. Go Nuts for Coconuts
The Dongjiao Coconut Plantation is among the largest coconut plantations in the world, with more than 500,000 coconut trees. Traditional huts hug winding footpaths, and the beach is full of restaurants that dabble in a variety of cuisines.
What to do in Haikou
1. Visit the Tomb of Hai Rui
This is the resting place of a Ming dynasty official called Hai Rui. He was born in Qiongshan and is renowned as a person who was morally upright and incorruptible. The tomb was designed and constructed in 1589.
2. Have a Blast at Baishamen Park
This amusement park is great for young ones and families, with go-karting, carousels, face painting, and cotton candy. There are tons of other interesting games and roller coaster rides.
3. While Away the Hours at the Hainan Provincial Museum
This museum mainly focuses on the history and heritage of the entire Hainan island and province, detailing everything from renowned leaders of the region to legends who have passed on, and it goes in depth into the early dynasties.
4. Visit Feng Xiaogang Movie Town
This cultural center has numerous buildings designed in the republican-era style, and it features architectural designs inspired by filmmaker Feng Xiogang's earlier films such as "Back to 1942".
5. Spend a Day at Hainan Tropical Wildlife Park and Botanical Garden
With breathtaking nature trails, this wildlife park is ideal for getting to know different species of birds as well as various types of trees, some with medicinal values. The botanical garden showcases flowers that are common in the region.
When to Visit Haikou
Haikou is generally warm most of the year and attracts both foreign tourists as well as locals. If you're looking for the best weather, November to April is a safe bet, as May through October is the rainy season. June to September can see typhoons hit the city.
How to Get to Haikou
Plane
Flights arrive at Haikou Meilan International Airport. From there, you can get a shuttle bus (CNY35) or a public bus (CNY6) into town; the trip takes around 40 minutes. A taxi from the airport into town will cost about CNY50.
Train
The Hainan Eastern Ring High-speed Railway connects all the major towns on the east coast of Hainan. It is easily the best way to get around the province.
Car
If you are more inclined to make pitstops so you can snap pictures of the environs, the Haiwen Expressway connects Haikou to Wenchang and winds and turns around hills and along the coastline.
Bus
Haikou connects with many other towns and cities in the Hainan province, including Sanya, Wanning City, Boao, and more. There are a few bus depots around town, the main one being the Haikou Transportation Center on S. Longkun Rd.
Airlines serving Haikou
Show more
Where to Stay in Haikou
There are many 4-star hotels that are affordable and just as comfortable as their 5-star counterparts. The Hong Yun Hotel and Ming Guang International Grand Hotel Haikou offer a bed and breakfast at decent prices. The rooms are comfortable with good amenities and air conditioning. If you're looking to splash out, the Ritz-Carlton features opulent interiors and a golf course. Great food and nightlife can be found along Guomao Road, while historical Bo'ai Road has tong lau-style buildings and lots of shopping opportunities.
Where to stay in popular areas of Haikou
Most booked hotels in Haikou
How to Get Around Haikou
Public Transportation
Buses zip through the city and can be a cheap way to get around, with tickets costing between CNY1 and CNY5. If you're not familiar with the routes though, it can be tricky to figure out the bus network. There are also tourist buses that stop at a lot of the main attractions; ticket prices vary between CNY10 and CNY16.
Taxis
Taxis are plentiful throughout Haikou. You'll pay CNY10 for the flag drop and CNY2 for every 0.6 miles thereafter.
Car
Hire cars are available from Europcar and Avis, with prices starting at CNY195 a day. Please note, you need a Chinese driver's license to to be able to drive in China. Alternatively, you can hire a driver and vehicle starting at CNY600 per day. If you feel like getting around on two wheels, you can take part in the bike share scheme in Haikou where users pre-pay and use a swipe card to gain access. All you need to do is to visit a government office in charge and make the necessary arrangements to acquire a pre-paid card that you can use to swipe and get access to one of the bicycles.
The Cost of Living in Haikou
Shopping
Bo'ai Road is packed with shops where you can find almost everything, from food to fabric and even pets. There are also a number of malls around town, such as State Parkway on the city Mall, Pearl Plaza, and Taoling Mall, while Haixiu Avenue is great for souvenirs.
Supermarkets and Food Stores
There are a few Rt-Marts and Carrefour hypermarkets around town, where you can pick up all kinds of grocery and food items as well as toiletries. As a guide, a quart of milk costs CNY8 and two pounds of potatoes is CNY9.
Where to Eat in Haikou
You can indulge in Hokkienese, Cantonese, and Southeast Asian cooking in Haikou. Dishes are often centered around seafood, and restaurants along the coast offer stunning views of the beach. Head to the restaurant-meets-market area on Banqiao Road where you can select food and fresh produce directly from the adjacent market and hand it over to chefs who will cook it for you on the spot; the menu here ranges from rice to cobra snakes and seafood. Haida South Gate Snack Food St mainly focuses on street food, and it has more than 40 stalls from which to pick. A decent meal can be had in Haikou for between CNY20 and CNY70.
Other popular cities in Hainan