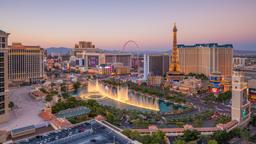 Hotels near Las Vegas Boulder City airport
Search hundreds of travel sites at once for Las Vegas Boulder City airport hotels
Best hotels near Las Vegas Boulder City airport
Based on 1,451 reviews
All
Families
Couples
Groups
Solo travellers
Business travellers
Cleanliness
9.2
Comfort
9.2
Location
7.9
Overall
8.0
Services
9.0
Cleanliness
9.3
Comfort
9.3
Location
8.0
Services
9.0
Staff
8.9
Cleanliness
9.2
Comfort
9.2
Location
7.8
Services
8.9
Staff
9.1
Cleanliness
9.3
Comfort
9.3
Location
8.1
Services
9.1
Staff
9.2
Cleanliness
9.2
Comfort
9.1
Location
7.8
Overall
8.0
Services
8.9
Cleanliness
9.0
Comfort
8.8
Location
7.6
Services
8.8
Staff
8.9
---
Pros:
room was very clean
Cons:
I didn't like the location if I was there for vacation. This reservation served it's purpose for my visit to Las Vegas.
Cons:
My wife is a neat freak...she said the floors and carpet weren't as clean as they once were. I did notice the hall way floors weren't as clean either.
Pros:
Easy in and out hotel exit no need to wait
Pros:
It was small with a nice restaurant and casino they lock the doors at a certain time so the casino doenst have acess to the hotel.We felt veey safe
Cons:
no microwave in the room
Pros:
The room and pool were very clean. The food was great and in the casino.
Cons:
The area was questionable, but was not bad in the end. We had no issues with theft.
Pros:
Clean, updated and very spacious
Cons:
I wish it had shuttle to airport
Pros:
The free parking, resort fees and fantastic staff.
Pros:
Thius place is Awesome and hotel employee is wonderful a t front desk. Love the pool small and quiet. We will be back.
Would stay again
Pros:
Room was great, clean, quiet and relaxing. The staff at the hotel, restaurant and casino were very nice and friendly. I highly recommend this holel Casino. Restaurant food was excellent and reasonable priced.
Cons:
No everything was great.
Pros:
Absolutely great, everything!
Pros:
Best price. Great room. Very clean
A first time customer who chooses a particular location and pays for a premium room in this economic environment deserves better than a room right above the hotel lobby where you can hear the sliding doors open and close and hear the lobby TV through the gap in the bottom of the door so big that outside lighting actually illuminates the room's entry way. A metal plate was installed on the door to block a gap so wide that pretty much anything thinner than a pocket comb could be pushed through to defeat the door latch. As for the room, the pictures make it look quaint and cozy but the reality is that it's a large room consisting primarily of unutilized empty space. The bathroom and TV were both very nice though - suite quality. My car was keyed the first night I was there. Assumption of risk, I know, but security wouldn't even take my name for an incident report. I'm sure many people stay there and have a great time and get good value for their money, at least based on the reviews I relied on. However, I myself am not one of those people.
Pros:
Room was basic but clean.
Cons:
Was fairly noisy with both road noise and from other guests easily heard in hallway. Definitely off the beaten path of tourists in an industrial and transient area of Henderson.Would have preferred that being disclosed prior to booking.
Cons:
Bogus policies and lack of amenities
FAQs when booking a hotel near Las Vegas Boulder City airport
How much is a cheap hotel near Las Vegas Boulder City airport?
How much is a cheap hotel near Las Vegas Boulder City airport for tonight?
How much is a cheap hotel near Las Vegas Boulder City airport for this weekend?
How can I find hotels near Las Vegas Boulder City airport?
Where to stay in Las Vegas?
Our map will help you find the perfect place to stay close to Las Vegas Boulder City airport by showing you the exact location of each hotel.
Popular in Las Vegas
Airports in Las Vegas
Neighbourhoods in Las Vegas