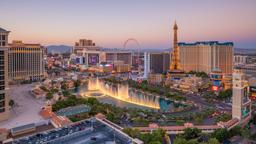 Hotels near Boulder City airport
Search hundreds of travel sites at once for Boulder City airport hotels
Best hotels near Boulder City airport
Based on 1,043 reviews
Cleanliness
9.5
Comfort
9.4
Location
7.8
Services
9.2
Staff
9.3
---
Pros:
It's close to where we had a meeting in Henderson yet not too far from Vegas. We have stayed here 4 or 5 times in the last 8 months and it never disappoints. The manager is excellent and very personable.
Cons:
I have a problem with cigarette smoke which keeps me out of your casino, ...but also keeps me from staying in the hotel part of most other casinos. Your hotel however is crispy clean with no hint of smoke, and can be accessed without going through the casino. I recommend you all the time.
Pros:
Hidden jewel - excellent room at budget price. The casino next door offers breakfast and dinner specials. Fitness room is well-appointed. Location is not great but less then 30 minutes from the Strip.
Pros:
Clean, neat, comfortable and hotel employee at the front desk was welcoming and personable and treated us with the greatest of respect as well as making sure everything was to our satisfaction.
Pros:
I like everything about the hotel. The restaurant, in the casino, really surprised me. I wasn't expecting much because it's very reasonably priced. However, My meal was absolutely delicious. The cook really knows how to prepare food, potatoes, eggs , omelette. The staff was so kind. They're so sweet and accommodating. They made up for any little discomforts. And, the hotel is absolutely gorgeous - Has a good feeling - can't explain, it's just a positive Vibration.
Cons:
The only thing I had a problem with was the amount of noise coming through the walls, the ceilings, and the hallway from the front door. I am hypersensitive to noise and cannot tolerate thumping of any kind above my head. If you're not there to rest as I was, but rather, to stay and see the sights, then it's a perfect place to stay.
Pros:
Very clean, very large beautiful room. Also very quiet.
Pros:
Fabulous room for a great price! Executive king with a fireplace. Restaurant had good food for reasonable prices. We'll definitely stay here again!
Pros:
Excellent place to stop for the night on a long driving trip. Clean, small frig easy access to freeways. Looks like they are adding a pool/spa in future
Pros:
On time shuttles. Helpful staff. Very clean. Stylish.
Cons:
Coffee capsules could be of a better quality.
Pros:
Outstanding service and staff!
Where to stay in Las Vegas?
Our Heatmaps tool will help you find the perfect place to stay in Las Vegas by showing you how close hotel options are to major activities
Popular in Las Vegas
Airports in Las Vegas
Neighbourhoods in Las Vegas