You're Going to Love Amarillo
Once a famous stop on cattle drives north towards America's great cities, Amarillo is a great jumping-off point for trips in the Texas Panhandle, a delight for fans of western history, and an incredible destination for steak lovers.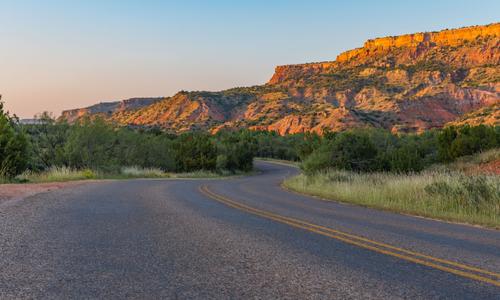 Top 5 Reasons to Visit Amarillo
1. Experience Authentic Western Culture
Amarillo rose to fame as a cattle town at the hub of the USA's 19th-century economy. These days, it's a classic western town, with ranches offering horseback riding and the attractions like the Tri-State Fair and Rodeo, held every September.
2. Quirky Art Exhibits
Modern Amarillo is an artistic center, thanks to the unique Cadillac Ranch (which features Cadillacs half buried in soil) and the excellent Amarillo Museum of Art.
3. Some of the Finest Steaks in the USA
Amarillo is still a cow town, and there's no better place to dine on range-fed beef than places like the Big Texan Steak Ranch & Opry (where you can take on a 72-ounce steak dinner).
4. Enjoy the Texan Countryside
Just outside Amarillo, visitors can head to Wildcat Bluff Nature Center, 600 acres of Texan rural bliss. Follow trails through the cottonwoods, take photos from the bluffs, and just soak up the peace and quiet.
5. There Are Some Great Family Attractions
More than rodeos await families in Amarillo. You can also head to the Wonderland Amusement Park, which mixes rollercoasters with a water park and is paradise on hot Texan summer days.
When to Visit Amarillo
Summer is blazing hot but September is more pleasant, with the added bonus of attending the Tri-State Fair and Rodeo.
How to Get to Amarillo
Plane
Rick Husband Amarillo International Airport (AMA) has links to major cities like Houston, Dallas, and Denver. From there taxis cost around $25.
Train
There's no Amtrak service to Amarillo, but you can take trains to Las Vegas, NM, which is around three hours' drive to the north.
Car
Take Route 40 from Oklahoma City or Albuquerque, or take Route 35 then 40 if you are driving from Dallas.
Bus
Amarillo has a Greyhound stop on S Tyler Street, not far from the center of town.
Airlines serving Amarillo
Show more
Where to Stay in Amarillo
Exceptional accommodation providers in Amarillo include the Courtyard by Marriott in the Downtown area and Staybridge Suites Amarillo-Western Crossing, just west of the town center.
Popular Neighborhoods in Amarillo
Route 66 Historic District - located in between Georgia Street and Western Street in the Downtown area, this neighborhood is stuffed with antiques stores along what used to be Route 66.
Memorial Park - just south of the city center, the area around Memorial Park is Amarillo's museum neighborhood, with the Museum of Art as its centerpiece.
Dumas Drive - running north from the center of town, Dumas Drive is home to the Wonderland Amusement Park and Amarillo Zoo.
Where to stay in popular areas of Amarillo
Most booked hotels in Amarillo
How to Get Around Amarillo
Public Transportation
Amarillo doesn't have a great local bus network, but there are some routes. Single tickets cost $0.75.
Taxi
Expect to pay a flag drop of $3, followed by around $1.50 per mile.
Car
Rental services in Amarillo include Avis, Budget, and Enterprise, where you can find packages for $20 per day.
The Cost of Living in Amarillo
Shopping Streets
For antiques and collectibles, head to the Route 66 District, while for designer labels, the Westgate Mall is a good bet. For authentic cowboy boots, check out Leverett Boots or Beck Cowboy Boots. Both are fairly centrally located.
Groceries and Other
Supermarkets in Amarillo include United and Walmart, where 12 eggs will come to approximately $2.75.
Where to Eat in Amarillo
Beef is king in Amarillo. Some of the best places to grab a steak include the Big Texan Steak Ranch and the Cowboy Gelato Smokehouse. If you fancy something lighter, try El Tejavan - a superb Mexican eatery. A 72 oz steak will cost over $50, but most meals will come to around $15-20.
Other popular cities in Texas