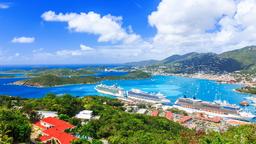 Saint Thomas Island car rentals
Search hundreds of travel sites at once for car rental deals in Saint Thomas Island
Saint Thomas Island, U.S. Virgin Islands
Saint Thomas Island car rental information
| | |
| --- | --- |
| Pick-up location | Saint Thomas Island |
| Rental locations | 11 |
| Airport locations | 6 |
Saint Thomas Island car hire reviews and directory
Hertz

╳
Hertz reviews
Car hire locations
Hertz
Locations in Saint Thomas Island
8100 Lingberg Bay
+1 340 774 1879
| | |
| --- | --- |
| Monday | 07:00 - 21:00 |
| Tuesday | 07:00 - 21:00 |
| Wednesday | 07:00 - 21:00 |
| Thursday | 07:00 - 21:00 |
| Friday | 07:00 - 21:00 |
| Saturday | 07:00 - 21:00 |
| Sunday | 07:00 - 21:00 |
Cons:
No cars were available when I arrived. It took 45 minutes to get me a car and the customer service woman told me I would have to pay extra. I took the vehicle with no extra charge.
AWFUL EXPERIENCE
Cons:
When I arrived there were no cars available, which was not the first time this has happened but I understand because it's the island. What bothered me was that I had prepaid and I had to call Hertz three times to verify my refund, which I think should have been done automatically. They gave me the wrong ID number and screwed up my refund initially so that was a good hour on the phone with them. Eventually they found the right one, but I'm still waiting 7-10 days for the refund to be back on my card. I will never use Hertz again.
10.0 Excellent
8 Apr 2017
Cons:
The car was full of cockroach
Pros:
We arrived early and was able to get into our car quicker.
Cons:
extra added on costs that we were hit up with during check in. Thought prepaid amount covered it all??
10.0 Excellent
3 May 2017
Would Definitely Recommend!!! Very Effective and Timing was great!!!
Cons:
3rd in line took over an hour to get car
Cons:
Instructions on drop-off procedures for before hours needed.
Cons:
Car was not available when we arrived. We waited over an hour for our car.
Bad rental
Cons:
the way i was treated at pick up the poor condition of car it over heated on two occasions it was an overall bad experience i wont let it happen again.
Budget

3 locations in Saint Thomas Island
╳
Budget reviews
Car hire locations
Budget
Locations in Saint Thomas Island
Cyril E. King Intl Airport
+1 340 776 5774
| | |
| --- | --- |
| Monday | 07:00 - 19:00 |
| Tuesday | 07:00 - 19:00 |
| Wednesday | 07:00 - 19:00 |
| Thursday | 07:00 - 19:00 |
| Friday | 07:00 - 19:00 |
| Saturday | 07:00 - 19:00 |
| Sunday | 07:00 - 19:00 |
Harwood Highway
+1 340 776 5774
| | |
| --- | --- |
| Monday | 08:00 - 17:00 |
| Tuesday | 08:00 - 17:00 |
| Wednesday | 08:00 - 17:00 |
| Thursday | 08:00 - 17:00 |
| Friday | 08:00 - 17:00 |
| Saturday | 08:00 - 17:00 |
| Sunday | 08:00 - 17:00 |
Havensight Cruise Ship Dock
+1 340 776 5774
| | |
| --- | --- |
| Monday | 08:00 - 17:00 |
| Tuesday | 08:00 - 17:00 |
| Wednesday | 08:00 - 17:00 |
| Thursday | 08:00 - 17:00 |
| Friday | 08:00 - 17:00 |
| Saturday | 08:00 - 17:00 |
| Sunday | 08:00 - 17:00 |
Pros:
counter located right at the airport.
Cons:
We were told one price when we reserved the car, but when we arrived, we were charged more because we were picking the car up at the airport, not off site. We booked the car to be picked up at the airport originally!! Not sure what the error was, but it would have cost more to take a taxi to the off site location than to pay the new price at the airport. No one walks out to the car with you or shows you any of the features of the car,and no one checks it out when you return.
9.6 Excellent
18 Dec 2015
Rent in St. Thomas instead of St. John ($$$$)
Pros:
SUPER value, especially as compared with rates on St. John. Renting on St. Thomas and paying the $50 round trip on the ferry is DEFINITELY the way to go. I rented at the office in Charlotte Amalie, which is located outside of the airport, and the cost was a lot lower. Despite what the website said, they allowed me to return it to the airport for no extra cost. Staff was extremely friendly and helpful.
Cons:
St. John's roads are insanely steep and curvy. Transmission was not in great shape, and the car really strained, sometimes coming to near stops on steep inclines, even in low gear. Given my experience, I'd opt for a Jeep type next time.
Cons:
When we arrived at the airport, A bit apprehensive having never been anywhere that requires driving on the left side, our 4 door Jeep was not available. The clerk did not seem too concerned with this. She was checking her watch the entire time as if we were keeping her from something else much more important. She gave us a beat up Toyota Camry. No SUV's available. I am 6'6" tall which made it a tight, uncomfortable, fit. It was dirty & smelly. I mean REALLY smelly. We had to postpone our plans for our day in order to wait around for the car to be swapped "IF", as she put it, a Jeep becomes available. Not a great start to a vacation.
10.0 Excellent
28 Jan 2016
Pros:
The agent was very helpful the price was affordable
10.0 Excellent
2 Feb 2016
Budget in St Thomas
Pros:
The location was actually in town, and not at the airport, This suited us much better as we were staying on a boat in a marine nearby.
Didn't have car we reserved!
Cons:
They didn't have the car we reserved. It forced us to upgrade to a more expensive vehicle and pay more than we planned. If we wanted the car we reserved we would have had to sit and wait for one to be returned and cleaned before they could give it to us. This is not acceptable.
Roaches
Pros:
We found two roaches in the car. Tires in the car were worn out as well.
Good car but pickup a hassle.
Pros:
New car, Toyota Yaris, handled well on mountainous roads of St. Thomas. Good on gas.
Cons:
The car I booked at STT (ST. Thomas USVI airport) with Budget actually turned out to be an off-site nearby and NO shuttle to get there. Had to pay $15 for a short cab ride AS THERE IS NO COURTESY SHUTTLE. Advertised rate for airport was misleading. A true airport Budget vehicle was charging $60 more than our Budget booked rate for STT ON KAYAK.
Car described on website not available
Cons:
Car described was not available and kayak price was not honered.
Pros:
Although I arrived over two hours past my pickup time, they still rented me a car. When I dropped off the car, they gave me a ride to the departure, check-in area.
Cons:
The line to get the car took 1.5 hrs and then they charged me $12 more than the cost quoted on the kayak site (not including insurance). The walk to my rental car was a little long and included steps, which was a bit difficult for a woman with heavy bags.
Thrifty

╳
Thrifty reviews
Car hire locations
Thrifty
Locations in Saint Thomas Island
15 Lindberg Bay
+1 340 473 7410
| | |
| --- | --- |
| Monday | 08:00 - 18:00 |
| Tuesday | 08:00 - 18:00 |
| Wednesday | 08:00 - 18:00 |
| Thursday | 08:00 - 18:00 |
| Friday | 08:00 - 18:00 |
| Saturday | 08:00 - 18:00 |
| Sunday | 08:00 - 18:00 |
Pros:
Drop off was quick, the car was clean,.
Cons:
Picking up the car took a very long time as there was only one person working in a very small office.
Pros:
Pick up and drop off were reasonably efficient. Car was good and fairly new.
Cons:
Explanations at pick up were rushed and a bit confusing eg re fuel payments. Little or no information in car re what to do if break down.
Cons:
Pick up in the morning is horrible. I had to wait 40 minutes for the shuttle. When I was renting I heard another customer saying he waited 45 min for the shuttle. Another thing is that they never have your car ready. Yo always have to wait for the car to be cleaned.
Pros:
Thrifty has better rates than others at St Thomas. Offers the same range of cars as others. Shuttle from the rental to the airport was fast and easy.
Cons:
The pickup from the airport was unmarked and confusing. The car pick up gets busy when several flights arrive around the same time. The car itself is clean but pretty dinged up. Overall an ok experience.
Cons:
Thrifty was out of vans and had to send me to a local company that was a junk van. Van very unsafe to drive and had very bald tires. They were worn all the way down to warning gap on them. Not good to drive on with the wet roads on the very steep hills.
Pros:
SERVICE IN TRANSPORTATION BETWEEN RENTAL LOCATION AND AIRPORT
Cons:
CAR WAS VISIBLY BANGED UP ON ALL FOUR SIDES. THE FRONT CAR SHELL WAS LOOSE FROM THE MAIN STRUCTURE OF THE CAR. ALL THIS WAS NOTED BY US ON THE RENTAL FORM, BUT UPON RETURNING THE CAR, I CAME UNDER PRESSURE THAT ALL THIS WAS DAMAGE CAUSED BY ME. I ALSO DID NOT LIKE THE "LOSS OF USE" CLAUSE IN THE RENTAL CONTRACT IN THAT IT IS AN OPEN INVITATION FOR CORRUPTING THE RENTAL SYSTEM
Pros:
This was an older vehicle that was not well maintained.
Vehicle not available
Cons:
When you request a full size car and are confirmed then arrive and find out one isn't available but you are already at the offsite location why confirm the car
Pros:
Minivan was in good shape. Service was decent but they act like they are doing you a favour by renting to you.
Cons:
Check in process takes forever as they have 1 person working at all times. They push you for insurance by saying that you have to keep paying while the car is being repaired - don't even know if that's legal.
what you should know
Pros:
Car Was in very good condition
Cons:
Rental yard was small and overcrowded. Returning the car was difficult because you could even park the car in the gates. Had to stop on the street for over 15 minutes. When i got inside i need a taxi and the attendant couldn't even call one for me. Didn't even attempt to look. Great service! huh. I had a call and cancel my Allianz Car Rental insurance because they don't accept as a recognized insurance. So please don't get this when you book your car.
Economy Rent a Car

╳
Economy Rent a Car reviews
Car hire locations
Economy Rent a Car
Locations in Saint Thomas Island
46A Nisky
+1 340 774 1977
10.0 Excellent
28 Aug 2016
Pros:
Easy, clean and professional business
Cons:
Selection of cars was not accurately listed on kayak. For ex. We requested a mustang and got a VW. We loved the VW anyways, but other Kayak customers may want to know ahead of time. That's the only negative thing I could think of.
10.0 Excellent
19 Oct 2016
Excellent customer service and positive "can do" a
Pros:
I had an early flight on the 18th and they met me 1.5 hours earlier (06:30) prior to opening (0800) in order to accommodate my schedule. They unsolicited a call to me to coordinate an early meeting to turn the car in and give me a ride to the Airport. Excellent customer service !
10.0 Excellent
24 Oct 2016
Pros:
Fast and courteous service
Cons:
There was nothing to dislike
10.0 Excellent
4 Dec 2016
Excellent
Pros:
Great, fast service with a very helpful staff and a free car model upgrade.
Cons:
The location is not at the airport, but the had a shuttle.
Horrible Experience
Pros:
Absolutely nothing.
Cons:
Car was in poor condition. They accused us of losing a hubcap and are tying to charge us for it. Gave us the car with only three quarters full of gas but made us return it filled. Check engine light was on. Tires were completely bald. Hubcap and gas cap door were missing. Car felt unsafe to drive so I returned it early and am asking for a complete refund. Customer service was unfriendly and unhelpful. Also the location was so hard to find and there was no number to call to get the shuttle to pick me up at the airport, had to take a cab. Then they tried to charge more because I didn't "come from the airport". NEVER use this company. I rent cars all the time and I have never experienced something like this.
Cons:
, car not clean was charged $24 as a pickup and drop-off service to the airport the car was in poor condition lots of scratches in chips and cracks in the body work charge the $200 deposit fee up front it was not located at the airport and get I was charged to be picked up and to be taken back to the airport
Cons:
Vehicle looked like it had been through a demo derby, scratches and dents everywhere.
Dollar

╳
Dollar reviews
Car hire locations
Dollar
Locations in Saint Thomas Island
15 Lindberg Bay
+1 340 473 7410
| | |
| --- | --- |
| Monday | 08:00 - 18:00 |
| Tuesday | 08:00 - 18:00 |
| Wednesday | 08:00 - 18:00 |
| Thursday | 08:00 - 18:00 |
| Friday | 08:00 - 18:00 |
| Saturday | 08:00 - 18:00 |
| Sunday | 08:00 - 18:00 |
10.0 Excellent
13 Nov 2015
Great service
Pros:
Staff were friendly and helpful! Would rent from the again
Cons:
Will rent from them again, great service !
8.0 Excellent
23 Nov 2015
Understanding management
Pros:
Schedules change, sometimes on short notice. The manager waived the 24-hour extension charge of $100. Outstanding.
Cons:
The roads are rough there, the cars have lots of dents and dings and scraped fenders from the speed bumps (actually, they are small mountains) and potholes (actually they are small lakes). The additional fees imposed at St. Thomas are pretty high and not reflected in the price you see online.
10.0 Excellent
28 Nov 2015
Pros:
Always friendly service
Cons:
My car lock clicker didn't work - annoying
Pros:
REASONABLY PRICED & ALLOWED TO TAKE CAR TO ST JOHN
Cons:
There was only one reservation agent and she was doing lots of multitasking and did not provide the best directions. When I returned the vehicle, she was still there and carried on a long phone conversation and failed to properly check me in... I r'cd no receipt.
Pros:
The Dodge van was very GOOD just what we needed. Clean vehicle. The location very close to airport and shuttle service to departures was good. Staff were professional. For busy period between Christmas & New years it was good experience, Suggestions in the negative list
Cons:
They close at 6:00 pm . Not in airport arrival area like other major brands. American Air flight arrived after midnight. Had to take taxi to hotel which was = 1 day rental. Called from Philly airport to notify $rental of late arrival but van stilled needed; the staff stated over committed on van rental & come next afternoon/ not morning. $ rental insisted filling with premium fuel. A/C needed to be charged as the a/c system operated not as cold as it should be. slight issue.
Not as bad as we thought
Pros:
We rented a 4 door Jeep. It was in fantastic condition (only 600 miles on it). The Jeep did well over the week - we even brought it over to St John on the car ferry and no problems. Drop off was great - very easy and quick. My sister also rented a "new" Jeep from them but the tire was low when they got it. Dollar assured them, it just needed air once and would otherwise be fine. They spent every other day getting air in that same tire. Luckily nothing major happened, but it was a total nuisance to have to get air 6 times in 10 days.
Cons:
Slow service picking up the car. They try to upsell you consistently by threatening that if anything happens to the car you will be charged for all the days it is out of commission, the $250 cleaning fee for excess sand, etc. They are offsite so you have to take a shuttle to the location. Not s huge deal unless like us you are lugging lots of bags and kids. Prices are pretty standard in St Thomas and St John.
Pros:
Return was EASYand without problems
Cons:
Car, especially outside was dirty.. Windshield was filthy and had no washer fluid. Otherwise OK
Pros:
The drop off was uneventful
Cons:
The pick up was exhausting. The counter lady at pick up was ride. The car was beat up really bad and the interior was cloth was dirty. When I reserved the car I was offered the rental insurance and paid for it and was told I would only need to pay the balance for the rental. Upon arrival we were informed that insurance was not valid and we had to purchase their insurance an additional $200 for it. The attitude alone of the desk person alone would make me not use them again.
Don't EVER rent from here.
Pros:
There was honestly nothing to like. From the rude staff, to being lied to about wait times, the entire experience was horrible.
Cons:
I only rented from Dollar because it was a few dollars cheaper than the others. The Dollar office in St. Croix is not at the airport itself but is very close, and they offer a shuttle, so I figured no big deal. Boy was I wrong! I called and asked for the shuttle, at which time I was told I shuttle would arrive in "10-12 minutes". Sounded reasonable enough, so I waited. Long story short, after communicating with them three more times and more lies about wait times, the shuttle arrived after about an hour of waiting. I get to the office and explain that waiting for an hour for the shuttle was unacceptable after being told my wait would only be 10 minutes, and that I would like a discount for an upgrade for my time being wasted. She got a sincere attitude with me, and told me that "waiting was part of the process", and that "there would be no discount" or any sort of compensation for being this honest to me and causing me to wait for an hour. This conversation went on for about 15 minutes, with her continuing to provide terrible customer service. Since my time was so undervalued, I ended up canceling my reservation, which I need to double check on. Please do yourself a favor and never rent from Dollar or Thrifty on St. Croix.
Pick up and drop off left a lot to be desired
Pros:
Toyota Corolla was a good value and had low miles.
Cons:
after Arrival at St Thomas airport it took 40 minutes for pick up. On the return, we waited 30 minutes in a bus with broken air conditioning. The driver made sure his fan was on so he could be cooler
Avis

3 locations in Saint Thomas Island
╳
Avis reviews
Car hire locations
Avis
Locations in Saint Thomas Island
3400 Veterans Drive
+1 340 690 4935
Monday
08:00 - 12:00
13:00 - 17:00
Tuesday
08:00 - 12:00
13:00 - 17:00
Wednesday
08:00 - 12:00
13:00 - 17:00
Thursday
08:00 - 12:00
13:00 - 17:00
Friday
08:00 - 12:00
13:00 - 17:00
Saturday
08:00 - 12:00
13:00 - 17:00
Sunday
08:00 - 12:00
13:00 - 17:00
6B-F Estate Thomas
+1 340 774 6660
Monday
08:00 - 12:00
13:00 - 17:00
Tuesday
08:00 - 12:00
13:00 - 17:00
Wednesday
08:00 - 12:00
13:00 - 17:00
Thursday
08:00 - 12:00
13:00 - 17:00
Friday
08:00 - 12:00
13:00 - 17:00
Saturday
08:00 - 12:00
13:00 - 17:00
Sunday
08:00 - 12:00
13:00 - 17:00
Airport Road
+1 340 774 1468
| | |
| --- | --- |
| Monday | 07:00 - 19:00 |
| Tuesday | 07:00 - 19:00 |
| Wednesday | 07:00 - 19:00 |
| Thursday | 07:00 - 19:00 |
| Friday | 07:00 - 19:00 |
| Saturday | 07:00 - 19:00 |
| Sunday | 07:00 - 19:00 |
10.0 Excellent
20 Feb 2016
Fast service
Pros:
The line was not long, service fast, when other lines and processing was slow.
Horrible experiance
Pros:
Nothing they denied my reservation and gave my rental to someone else before I got there.
Cons:
Everything. Avis will let you reserve a spot and then deny you when you arive.
Cons:
The tires on the car were in awful condition. We had to consistently put air in one and by the last day it was flat & we drove to the airport on a donut. Driving in St Thomas is all hills with cliffs on one side so bad tires are dangerous! Also they charged us $130 more than the quoted price. And there were no signs at the airport so we didn't know where to return the car.
Cons:
When we arrived they told us they didn't have any full size vehicles (which is what we reserved) so they would have to give us a mid-size. They also said it was going to take 40 minutes before our car was ready. We ended up waiting almost 3 hours! We will not be renting again from them in the future
10.0 Excellent
1 Sep 2019
Pros:
The car was available
Cons:
The waiting time could be less But overall everything when great.
Cons:
Online reservation appeared to reserve for airport pickup. Not so. Needed a 24 dollar cab ride to get car.
No one there
Cons:
we got to the airport and were told our car was at a different location. We had to pay for a 20 minute cab ride, got to the other location and it was locked. Called Avis and were told they'd look into it and call back. They never did. We had to contact a different company to rent from.
Pros:
Car was great, drop off and attendant was great.
Cons:
Desk person was weak on car location and airport roadway for luggage pickup (map/drawing would have helped)
8.4 Excellent
26 Feb 2017
Devil is in the details
Pros:
People very friendly and helpful. Car was as expected. Apparently my reservation was at the Cruise Port location and they couldn't change it to the airport. Took a cab and everything worked well. Would use them again but would verify pickup location. (I was allowed to return to airport without a charge.)
pickup location switching
Cons:
website car rental pickup location was switched automatically (without user intervention) during the reservation process.
Apex

Apex
Locations in Saint Thomas Island
189 travellers who rented a car in Saint Thomas Island gave the car agency they used an average rating of 5.6
Car rental locations in or near Saint Thomas Island
When to book a rental car in Saint Thomas Island
Average daily price per month
Car hire prices as pick-up date approaches
Top tips for renting a car in Saint Thomas Island
As a visitor to Saint Thomas Island, there's so much to see with the advantage of a car. When you rent a car on this Caribbean island, it makes sightseeing and beach hopping a lot easier, rather than using the limited public transport. From ancient castles to historic forts, renting a car gives you the absolute freedom to discover every part of Saint Thomas Island.
Looking to rent a car on your trip to Saint Thomas Island? If you are landing at Cyril E. King International Airport, you will find a single Terminal split into two floors. The car hire counters are located inside the airport terminal in the baggage claim area, on the second floor.
When it comes to driving around Saint Thomas Island, you must remember to drive on the left side. When you rent a car, you will find that the vehicles are a left hand drive like in the rest of the U.S., since they are imported from the rest of the U.S. With only three main streets in the main city of Charlotte Amalie, it's easy to navigate the island.
Being mainly a tourist island, Saint Thomas Island doesn't get affected by major rush hours like on the mainland. In the city center of Charlotte Amalie, you can expect to face rush hour traffic from 7:00 am until 9:00 am. When the cruise ships dock at St. Thomas Cruise Ship Docks, you should avoid the surrounding roads because of the increased traffic.
Book your rental car in Saint Thomas Island at least 5 weeks before your trip in order to get a below-average price
FAQs about renting a car in Saint Thomas Island
What is the best rental car company in Saint Thomas Island?
Based on ratings and reviews from real users on KAYAK, the best car rental companies in Saint Thomas Island are Avis (7.6, 2270 reviews), Budget (7.4, 4269 reviews), and Hertz (7.4, 3878 reviews).
How can I find car rentals near me in Saint Thomas Island?
Take a look at our extensive car rental location map to find the best rental cars near you.
What type of car is recommended for driving in Saint Thomas Island?
Due to Saint Thomas Island's limited main roads, plus hilly and rural terrain, renting a sedan for your vacation is your best option. Jeep hires are also recommended as you may have to contend with winding, gravel, and unpaved roads if you decide to explore the nearby beaches.
What's the speed limit in Saint Thomas Island?
As there are no freeways on Saint Thomas Island and most of the roads only have one lane, the speed limits across the island are low. If you are driving outside of towns, the speed limit is 35 mph. When you drive through more urban areas and in the towns of Saint Thomas Island, the speed limits are 20 mph.
How are gas prices in Saint Thomas Island?
Across the U.S., petrol prices are an average of $3.06 per gallon, whereas the cost of petrol is around $3.14 per gallon in the U.S. Virgin Islands. Buying petrol on Saint Thomas Island is much higher compared to the rest of the Island, where petrol is between $3.62 and $3.93 per gallon.
Where are the best places to park in Saint Thomas Island?
Around Saint Thomas Island you will find plenty of parking. There aren't many street-side parking options around the island, but in the main towns you will find numerous parking spaces. In Charlotte Amalie, there is free parking beneath the American Yacht Harbor, plus there are lots of spaces at the Fort Christian parking lot. In Red Hook there is a parking lot by the ferry port which charges $10.00 a day.