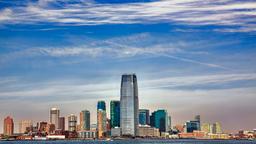 Jersey City car rentals
Search hundreds of travel sites at once for car rental deals in Jersey City
Jersey City, NJ, United States
Jersey City car rental information
| | |
| --- | --- |
| Pick-up location | Jersey City |
| Rental locations | 13 |
Jersey City car hire reviews and directory
National

8.0 Excellent (880 reviews)
╳
National reviews
Car hire locations
National
Locations in Jersey City
110 1st St
+1 201 656 7410
| | |
| --- | --- |
| Monday | 08:00 - 17:00 |
| Tuesday | 08:00 - 17:00 |
| Wednesday | 08:00 - 17:00 |
| Thursday | 08:00 - 17:00 |
| Friday | 08:00 - 17:00 |
| Saturday | 09:00 - 13:00 |
| Sunday | 00:00 - 00:00 |
All National reviews
National reviews in Jersey City
╳
Avis reviews
Car hire locations
Avis
Locations in Jersey City
129 Montgomery Street
+1 201 427 7232
| | |
| --- | --- |
| Monday | 07:30 - 18:00 |
| Tuesday | 07:30 - 18:00 |
| Wednesday | 07:30 - 18:00 |
| Thursday | 07:30 - 18:00 |
| Friday | 07:30 - 18:00 |
| Saturday | 08:00 - 15:00 |
| Sunday | 09:00 - 13:00 |
30 Mall Drive West
+1 201 217 8209
| | |
| --- | --- |
| Monday | 07:30 - 20:00 |
| Tuesday | 07:30 - 20:00 |
| Wednesday | 07:30 - 20:00 |
| Thursday | 07:30 - 20:00 |
| Friday | 07:30 - 20:00 |
| Saturday | 07:30 - 20:00 |
| Sunday | 08:00 - 18:00 |
8.8 Excellent
18 May 2017
Pros:
Staff was helpful and friendly. The car was nearly new.
Cons:
The car was not clean. You could see what the client before had at lunch. Gas was not full. Fortunately I took a picture, so I could proof it.
Cons:
there was no car for us at pickup
10.0 Excellent
21 Dec 2016
Customer Service to a "T"
Pros:
The gentleman who took care of us is the model for how you should hire. Super nice, funny, wanting to please. It left me with the rare feeling of wanting to spend the time to write a review like this. We were extremely satisfied with our experience. I have since forgotten his name, but it was Tuesday, Dec 20th at 11am in your JC office on 1st St.
Cons:
The signage outside of the building is poor. Drove around a little before realizing where the entrance is.
go to hertz instead
Cons:
I was turned away without the lovely gentleman cheating my ID seeing that I am over 25! He saw that it said probationary and turned me away. Even the DMV tells you as long as your over 25 you can rent a car. I was moment away from asking for a manager but I just left without a fuss. I went a few minutes away to hertz and had no issue renting a car. Won't ever bother with these guys again!
No cars
Cons:
We had a reservation but there were no cars available (for us as well as a lot of other customers). After waiting over an hour, we had to get a car from somewhere else and pay more money due to the last minute nature of the rental. Thanks Avis. My question is this: if you knew in the morning that you had no rental cars, why not get in touch with people so they could make alternate plans?
Newport Mall counter staff very kind and helpful!
Pros:
The staff at the Avis counter in the Newport Mall were very helpful and nice!
Terrible Return Process
Pros:
Convenient location
Cons:
We rented the car the 3 days, starting at 8pm on Thursday with the car to be returned on Sunday evening. When we brought the car back (on time), we had to self park, and when we go to the check in counter in the mall, the counter was closed. We ran around looking for a key drop box, none found. I called customer service - closed, called roadside assistance and told them I was leaving the car in the lot and putting the keys under the counter. Did that. Next morning called to confirm the keys were received. However, I was charged an extra day's rental, an extra day's car seat PLUS a late fee. Outrageous, considering I returned the car within 36 hours. Really unhappy customer here!!!!
Pros:
Its nice to have a local car rental agency with extended hours, especially for a Saturday car return.
Cons:
The interior had some residue from the previous rental and the windshield fluid was low. Detailing of car should be reviewed and approved before next rental.
Convenient Location for Jersey City
Pros:
It was convenient to not have to go to Newark airport to rent a car. And relatively inexpensive compared to taxi prices.
Cons:
Trying to find the check in location because it was located inside mall and no one was answering the phone when I called to clarify.
Alamo
9.7 Excellent (4 reviews)
╳
Alamo reviews
Car hire locations
Alamo
Locations in Jersey City
110 1st St
+1 201 656 7410
| | |
| --- | --- |
| Monday | 08:00 - 17:00 |
| Tuesday | 08:00 - 17:00 |
| Wednesday | 08:00 - 17:00 |
| Thursday | 08:00 - 17:00 |
| Friday | 08:00 - 17:00 |
| Saturday | 09:00 - 13:00 |
| Sunday | 00:00 - 00:00 |
10.0 Excellent
26 Sep 2016
Jersey to Chicago
Pros:
Great ride -- great service -- great price !!!
Cons:
Not a thing -- it was a great experience !!
8.8 Excellent
27 Nov 2016
Pros:
The team in New Jersey did an excellent job checking us in and making us feel appreciated.
10.0 Excellent
30 Nov 2016
Customer service
Pros:
The customer service at both our pick up and drop off was great. Everyone was extremely helpful and answered all of our questions.
10.0 Excellent
18 Dec 2016
Was wonderful
Pros:
I love the Caddy I got, smooth sailing. Great customer service.i will probably rent another Cadillac from Alamo again Lex
Enterprise
9.2 Excellent (8 reviews)
3 locations in Jersey City
╳
Enterprise reviews
Car hire locations
Enterprise
Locations in Jersey City
21 2nd St
+1 201 792 2402
| | |
| --- | --- |
| Monday | 07:30 - 18:00 |
| Tuesday | 07:30 - 18:00 |
| Wednesday | 07:30 - 18:00 |
| Thursday | 07:30 - 18:00 |
| Friday | 07:30 - 18:00 |
| Saturday | 08:30 - 13:00 |
| Sunday | 00:00 - 00:00 |
3715 John F Kennedy Blvd
+1 201 217 3320
| | |
| --- | --- |
| Monday | 07:30 - 18:00 |
| Tuesday | 07:30 - 18:00 |
| Wednesday | 07:30 - 18:00 |
| Thursday | 07:30 - 18:00 |
| Friday | 07:30 - 18:00 |
| Saturday | 09:00 - 13:00 |
| Sunday | 00:00 - 00:00 |
832 Communipaw Ave
+1 201 434 2424
| | |
| --- | --- |
| Monday | 07:30 - 18:00 |
| Tuesday | 07:30 - 18:00 |
| Wednesday | 07:30 - 18:00 |
| Thursday | 07:30 - 18:00 |
| Friday | 07:30 - 18:00 |
| Saturday | 09:00 - 13:00 |
| Sunday | 00:00 - 00:00 |
10.0 Excellent
26 Nov 2016
Great service
Pros:
A small super friendly business in the middle of Jersey City. I needed to rent a car on short notice, they had what I wanted at a competitive price I dodn't have to go out to the airport to get a car - they were near by and it could not have been better
Good and Bad
Pros:
They had a wonderful young lady drive me to the metro after my rental. She was pleasant and professional. The car was ok.
Cons:
I arrived later than expected and even though I had confirmed my reservation and they had given my car to someone else. The man at the desk was very dismissive of me. I found him quite rude. They then had to drive me 20min away to another location to pick up another vehicle. The car smelled so strong of air freshener that it made me nauseous.
9.2 Excellent
29 Jan 2019
Pros:
she was super helpful and nice
10.0 Excellent
17 Jan 2017
Pros:
This Enterprise location is great and easy. Brand new vehicle, and friendly service. It's a smaller location, so there's opportunity for free upgrades when vehicles are not in.
Cons:
This is an Enterprise problem, not this location, but if you pick up after 2-3pm, drop off really should extend to the end of the day... I ended up paying for an extra day, but well worth it.
10.0 Excellent
25 Nov 2017
Pros:
Very patient, kind, accommodating servcie, good price
Cons:
Everything was great!
10.0 Excellent
6 Aug 2019
Pros:
The staff was very friendly and helpful and the drop off was extremely easy.
Cons:
It was great. All you could ask for. Thanks!
10.0 Excellent
15 Nov 2016
Pros:
Fast. Convenient location.
Friendly and Easy pick-up
Pros:
The associates were very friendly and nice, helped me load up the rental car with all my stuff. Great value for money.
Cons:
I really hated that I got two sets of keys and they were stuck together, so I always had this bulky ring with 2 keys and 2 fobs on it. They apparently need to have it like that so the keys are together if/when the car is sold, but it's incredibly inconvenient. What if I lost them? Which I didn't, but what if? Also the fact that I couldn't just put the keys in my pocket was very frustrating. Additionally, the car wasn't clean on the inside or outside, but that didn't bother me too much since I was driving out to the country, but I just thought I would mention it.
╳
Budget reviews
Car hire locations
Budget
Locations in Jersey City
129 Montgomery Street
+1 201 792 2028
| | |
| --- | --- |
| Monday | 07:30 - 18:00 |
| Tuesday | 07:30 - 18:00 |
| Wednesday | 07:30 - 18:00 |
| Thursday | 07:30 - 18:00 |
| Friday | 07:30 - 18:00 |
| Saturday | 08:00 - 15:00 |
| Sunday | 09:00 - 13:00 |
351 Luis Munoz Marin Boulevard
+1 201 792 2028
| | |
| --- | --- |
| Monday | 07:30 - 18:00 |
| Tuesday | 07:30 - 18:00 |
| Wednesday | 07:30 - 18:00 |
| Thursday | 07:30 - 18:00 |
| Friday | 07:30 - 18:00 |
| Saturday | 08:00 - 15:00 |
| Sunday | 09:00 - 13:00 |
10.0 Excellent
17 Apr 2017
great experience
Pros:
the staff at the pick up point were really helpful - there had been a mix up about pick up and drop off sites and they sorted it really quickly. the first car had a crack in the windscreen - which we pointed out before we took the car - and it was changed with no problem at all. We had to wait about 10 minutes whilst they got a replacement car ready for us. Great service and such friendly staff - we will be back again. They now need to release the deposit held on my credit card!
Cons:
I was charge $25 in Boston for returning the car earlier ?!?!?!? I will be disputing this charge as soon as I'm back in Jersey City. I made reservation to pick up the car around 9:00 am and to return next day around 4:00 am and that exactly when I return the car. I was told that because reservation was made for a full day by the Budget office in Jersey City from 11:00 am(when I came to pick up the car) till 11:00am there is a fee for returning CAR EARLY - I have never experience to be charged because I return a car earlier. The funny thing is that I repeated 3 times in Jersey City office that I would be returning the car by 4:00 and don't need till 11:00 am and they repeated 3 times that this was just formality and I could return the car whenever I wish to.
Pros:
Super convenient to pick up and drop off (at different locations)
Cons:
I was not given the type of car I requested, though i enjoyed the one i got (kia soul)
Didn't get my reserved car
Pros:
Quick check in and quick return. Good price
Cons:
I reserved an intermediate size car and they didn't have any so was offered a compact car (ford fiesta) or a minivan. Ended up taking the minivan but would've preferred my reserved intermediate size car.
Cons:
The attendant was extremely rude and unhelpful. The place is not clean. Terrible service overall
Cons:
Location severely understaffed; pickup took almost an hour. No Air Conditioning! On a very, very hot day
Fine rental
Cons:
Staff was incredibly rude to both myself and another customer while I was picking up the car. I won't be back.
No cars available - they refused to give me a bigg
Cons:
I turned up - no compact car like I'd reserved. Plenty of minivans there - they refused to give me one. I phoned customer service of Budget to see if they could help - the representative refused to help, said "I don't care", and ended the call. So - no car. Now I have to write to Budget to get my money back for the insurance I paid for the rental
poor job
Cons:
I did ask for a rental from ewr to Wikes-Barre,pa, I endet to get from jersycity budget office***? to avp, as I got in to the office of Budget , they told me the prise is about $60 more even the new ark is closer than jersy city? *** as I received the confirmation pf my request ( EWR-Wijkes -Barre) Ithought the address of budget is only for the street address
8.0 Excellent
22 Oct 2016
Location closed at time of pick-up
Cons:
The pick-up time was the same time as the location closed, but this was not communicated at the time of booking. Thankfully I called to say I was running late, and saved myself a trip to the rental center. I had to reschedule my car for the following day.
╳
Hertz reviews
Car hire locations
Hertz
Locations in Jersey City
135 Greene Street
+1 201 946 7887
| | |
| --- | --- |
| Monday | 07:30 - 18:00 |
| Tuesday | 07:30 - 18:00 |
| Wednesday | 07:30 - 18:00 |
| Thursday | 07:30 - 18:00 |
| Friday | 07:30 - 18:00 |
| Saturday | 08:00 - 12:00 |
| Sunday | |
49 Mall Drive West
+1 201 459 0900
| | |
| --- | --- |
| Monday | 07:30 - 18:00 |
| Tuesday | 07:30 - 18:00 |
| Wednesday | 07:30 - 18:00 |
| Thursday | 07:30 - 18:00 |
| Friday | 07:30 - 18:00 |
| Saturday | 08:00 - 12:00 |
| Sunday | |
Jersey city - HERTZ
Pros:
Car in good condition. KIA SOUL.
Cons:
Requested car drop off in Edison - which was rejected. I had to go all the way from Edison to Jersey City and come back by train to Edison. Very high insurance fees !!
Charged for the entire weekend
Cons:
Due to the location's random policy change that occurred in July 2015, if you were to rent a vehicle on late Friday or early Saturday, you are changed for the entire weekend. The reason was due to employees ineptitude to check the parking garage arrival card to confirm when the car was dropped of. As such the laziness has resulted in everyone paying for multiple days when only 24 hours is required. Highly unsatisfied.
Cons:
My rate was completely paid through priceline. However Hertz added $100 fee without my knowledge. The original car rental was only $48
10.0 Excellent
28 Apr 2017
Easy
Pros:
I picked up my rental from Jersey City. It was convenient and the process was fairly quick before I started driving. Returning was almost as smooth.
Cons:
There's a weird check-out process where you park in the parking lot and when you get to the counter, you have to tell them the mileage. I honestly forgot because other places, when i return, the person at the gate checks the mileage and all I have to do is return the key. So i had to wait a bit longer for the attendant to go back up to the car i had to check thrn come back down to clear me out.
8.0 Excellent
15 Jul 2017
Customer service is a joke
Pros:
Pick up was a breeze and the car was a great rental. Attendant was efficient and polite.
Cons:
Drop off was difficult to find and the attendant was rude and disputed with me on wether I let someone know I was returning the car after he almost parked it as my own. I told 2 different workers I was returning a car renta after a wild goose chase with poorly placed signs.
Cons:
Waited in line for over 90 minutes to rent my car. Reserved an intermediate but was given a compact. This was my go-to rental location but I will not be returning.
Car was dirty
Pros:
The car was dirty both inside and out when we received it.
Although paid online they gave my car away
Pros:
Nothing. I came from across the country with my family to visit relatives . Reserved a 7 person vehicle for 8am to return by 6 the same day. We got there at 9:30am & they had given the car away. In spite of the fact that I had paid in full online.
Cons:
We had to go to the next town to get a vehicle from another rental car company. By that time only 4 of us could go because of the worry about getting back for a prior commitment. Not to mention the additional expense of uber to get to new location.
10.0 Excellent
17 Oct 2017
Staff at 135 Greene Were Amazing
Pros:
I had a minor issue with my credit card and had to call my bank as my cell phone battery died.They charged my phone for me and let me get in contact with my bank.
Very horrible experience with Hertz rental
Cons:
1)I waited almost 40 minutes to get the car(one woman ahead of me)-causing me to be late 2)They didn't give me the ticket to get out of the garage so I held up other cars, as I had to get out of the car and track down a ticket 3) I have asthma and the car smelled of smoke(causing me to take an inhaler 3 times during the few days I had the car) 4)When I went to return the car, there was no instruction on drop off-just to go up a ramp in a huge garage with all sorts of Hertz rental return signs and NO instruction-finally I had to leave it downstairs in a handicapped spot as I had to catch a ferry This was an all around horrible experience. I have rented from Hertz many times and have never had such a horrible experience. Thanks
Priceless

Priceless
Locations in Jersey City
597 Marin Blvd
+1 973 361 3044
Sunnycars

Sunnycars
Locations in Jersey City
78 travellers who rented a car in Jersey City gave the car agency they used an average rating of 6.1
Car rental locations in or near Jersey City
When to book a rental car in Jersey City
Average daily price per month
Car hire prices as pick-up date approaches
Top tips for renting a car in Jersey City
Located only a stone's throw away from the hustle and bustle of New York City, Jersey City has a well-established identity centered around arts, music, sports, and exceptional food. Renting a car during your trip to Jersey City will help you capitalize on the city's incredible location, sitting just across the Hudson River from the array of Manhattan attractions and equally close to the Jersey Shore and the expanse of beach towns and resorts. Having a hire car will provide you the freedom to set your own schedule travel at your own pace.
Newark Liberty International Airport is located only 10 miles from downtown Jersey City and is host to a long list of major global hire companies including Avis, Alamo, Budget, and Hertz. The counters for all hire agencies are located at station P3 of the airport, a short Air Train ride from station P2. Also consider flying to either Teterboro Airport or John F. Kennedy International Airport, both about a one-hour drive from Jersey City.
Being part of the Greater New York City metropolitan area means that there are people everywhere; on the roads, on sidewalks, in parked cars, in alleyways. Be aware of the fact that conditions on Jersey City roads are constantly changing and it is important to stay concentrated and yield to pedestrians.
Jersey City experiences significant rush hour traffic from 6:30 am to 9:30 am in the morning, as well as between 4 pm and 7 pm in the evening. It is advisable to avoid or minimize the driving that you do during these periods and instead look towards the reliable public transport system as a viable alternative.
Book your rental car in Jersey City at least 1 week before your trip in order to get a below-average price
FAQs about renting a car in Jersey City
What is the best rental car company in Jersey City?
Based on ratings and reviews from real users on KAYAK, the best car rental companies in Jersey City are Alamo (8.7, 6496 reviews), Enterprise (8.5, 12826 reviews), and National (8.0, 880 reviews).
How can I find car rentals near me in Jersey City?
Take a look at our extensive car rental location map to find the best rental cars near you.
What type of car is recommended for driving in Jersey City?
A standard sedan will suit the streets of Jersey City. While traffic congestion occurs now and then, there are wide roads and sufficient space for driving and parking just about any modern car. Browse the extensive list of hire options available with KAYAK to choose the car that best suits your personal requirements and preferences.
What's the speed limit in Jersey City?
The majority of roads within a close proximity to Jersey City will be considered an urban area and thus have a 25-mph speed limit. In suburban residential and business areas the speed limit can increase to 35 mph, while on state and interstate highways, the speed limit can range from 50 to 65 mph.
How are gas prices in Jersey City?
Your travel budget just got a helping hand; you can expect to pay approximately $2.46 per gallon for gas, which is slightly below the American average. If you are traveling across to Manhattan or eastern New York, top up with a full tank before you cross the bridge as petrol prices are more expensive once you cross the Hudson.
Where are the best places to park in Jersey City?
On-street parking can be difficult to find and is often limited to a 2-hour maximum. Instead, it is best to focus your efforts on finding a parking garage within walking distance of your destination. Located one street behind the major thoroughfare of Washington Street, Montgomery Greene Garage offers a flat daily rate of only $15.