You're Going to Love Taupo
Taupo is a mix of people who simply want to luxuriate in the natural surroundings and beauty all around and adrenaline-loving thrill-seekers who take on the incredible mountains and choppy waters. No matter why you arrive, you're sure to think: "I could get used to this way of life!"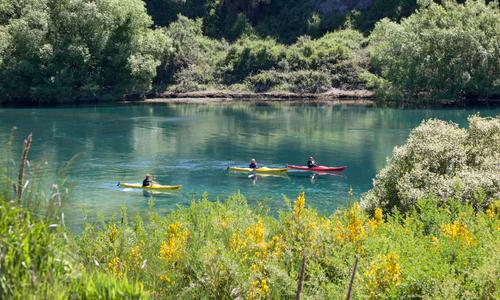 Top 5 Reasons to Visit Taupo
1. Take Part in Any Outdoor Adventure!
Skiing, bungee-jumping, kayaking, tandem skydives, parasailing, mountain biking, white-water rafting: if there's an outdoor activity your heart has been yearning for, you can do it in Taupo.
2. Decipher the Maori Rock Carvings at Mine Bay
Taupo has a rich indigenous history. You can kayak out to the carvings on Mine Bay, featuring huge faces and smaller historical figurines, a testament to the Maori people.
3. Conquer Mt. Tauhara
The infamous Mt. Tauhara is actually a dormant volcano. If you manage to reach the top, you'll be rewarded with incredible views of Taupo and the Central North Island.
4. Splash Around at Action World Taupo
Action World, with its splash and wave pools and water slides, is a great draw for families or simply those who love water parks.
5. Stroll in the Waipahihi Botanical Reserve
Created from scratch, the Waipahihi Botanical Reserve is a sprawling 35 hectares of rare alpine plants, rhododendrons, azaleas, and camellias.
A popular activity in Taupo
Taupo Adventure Combo: Jet Boat Ride and Whitewater Rafting
Find activities
Top activities in Taupo
Maori Rock Carvings Sailing Trip in Taupo
Duration: 2h 30m
Maori Rock Carvings Sailing Tour
Duration: 2h 30m - 3h
Hukafalls Jet Boat Ride from Taupo
Duration: 30m
Grade 3 Whitewater Rafting on the Tongariro River
Duration: 4h - 5h
Tongariro White Water Rafting from Taupo and Turangi
Duration: 4h
Taupo: Waikato River 50-Minute Jet Boat Ride
Duration: 50m
When to Visit Taupo
The activities you want to partake in will determine the "best" time to go. There are four distinct seasons with a mild summer, perfect for beach-going, and a cool winter which, coupled with the area's mountainous terrain, makes skiing a viable activity. The climate is cooler in Taupo than anywhere else, in general, because of its high elevation.
How to Get to Taupo
Plane
International visitors will land at Taupo Airport (TUO), via Auckland or Wellington. Use a taxi to get to the city center, which is five miles away.
Train
There are no trains to Taupo but there are shared trips on shuttles. Use the Mountain Shuttle to Tongariro Crossing, running between Ketetahi and Mangatepopo for NZ$30.
Car
Surrounding cities like Napier are easily accessed. Use the Thermal Explorer Highway for 83 miles to get to Tamamutu St. and arrive in Taupo.
Bus
Book online with NakedBus (also known as Mana Trips). A trip from Taupo to the National Park Village in Tongariro, for example, starts at NZ$19, plus luggage and booking fees.
Airlines serving Taupo
Show more
Where to Stay in Taupo
If you love that good lodge life, check into the Huka Lodge. Visitors who are looking for modest but comfy accommodations will love the Cove. Backpackers will appreciate the hospitality of Blackcurrant Backpackers.
Popular Neighborhoods in Taupo
National Park Village - Tongariro Crossing - a national park with mountains you can scale, trails you can get lost on, and horizons that are a feast for the eyes. It is located at the base of Mt. Ruapehu.
Wharewaka - located at the end of the bus line, Wharewaka is quickly becoming known for its high density of vacation home developments, as well as its beaches.
Acacia Bay - looking straight out onto the sparkling waters of the pristine Lake Taupo is this district, which is popular for visitor accommodations as well as for local residents.
Where to stay in popular areas of Taupo
Most booked hotels in Taupo
How to Get Around Taupo
Public Transportation
Though most visitors to Taupo can get by on foot, Taupo Central has a "Busit" service, which is its local transportation. A single Busit fare for an adult is NZ$1.50. If you're paying with cash, a single fare is NZ$2.
Taxi
Grab a taxi from local providers like Great Lake Taxis. Rides are metered, not pre-set. Fares start at NZ$3 and NZ$1.86 per mile thereafter.
Car
You can rent a car from companies like Budget or Thrifty Taupo Airport. Fares vary but the regional average works out to about NZ$35 - NZ$120 per day for a standard 4-door rental.
The Cost of Living in Taupo
Shopping Streets
The Taupo town center features a whole array of boutique shops and outlets with lots of parking. You can also head to Ballentynes Fashion Central Taupo.
Groceries and Other
A quart of milk in Taupo costs NZ$2.42 and a dozen eggs costs NZ$5.
Where to Eat in Taupo
A local Taupo favorite is Spoon and Paddle. This youthful and relaxed cafe serves up everything from freshly brewed, fair trade coffee to local beers and melting lamb shoulder tortillas. Mains cost between NZ$12 - NZ$19.