You're Going to Love Ishigaki
Ishigaki is known as the business and transport center of Japan's Okinawa archipelago. This stunning island features several white sand beaches, mangrove forests, charming corals, and mountains to explore.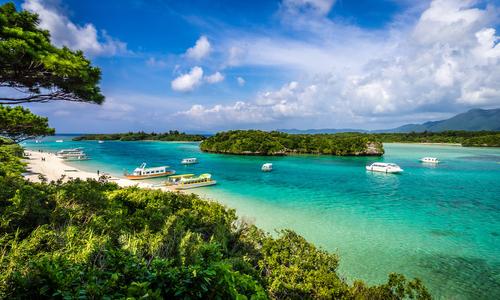 The island is a snorkeling haven and a foodies paradise. It boasts a one-of-a-kind specialty, Yaeyama Soba noodles made from flour, which are nothing like the usual buckwheat noodles.
Okinawa prefecture, in which Ishigaki lies, rivals the classic tropical paradises that are Bali and Hawaii. The small population and pristine beaches make it a truly special destination.
Whether you are flying in for a weekend stay or a month-long vacation, Ishigaki has tons of things to do and places to visit. From its unparalleled diving spots to sports fishing escapades, Ishigaki has something in store for every single visitor.
Top 5 Reasons to Visit Ishigaki
1. It's a Hidden Gem
Tucked away in an archipelago, the island city is popular with Japanese beachgoers, and Sunset Beach and Yonehara Beach are jaw-droppingly beautiful. The fascinating culture of the locals and the unique food are inspiring to say the least.
2. The Delights of Japanese Cuisine
Ishigaki is a perfect seafood lover destination. Fresh produce is also plentiful, and Okinawa prefecture, which Ishigaki is part of, arguably has the most exceptional Japanese dishes, with Yaeyama Soba being a signature specialty.
3. Diverse History
Before the archipelago that Ishigaki is part of was incorporated into Japan, it was ruled by the Ryukyu Kingdom, with significant Chinese influences. This is visible in the still-intact architecture, culture, food, and the local dialect.
4. It's Remote But Easily Accessible
Ishigaki might be off the mainland, but, as the Yaeyama Islands' transportation hub, it is easy to get to. It's also an ideal place to connect to other spots in the region.
5. There's Something for Every Budget
From sprawling resorts to cheap, delicious eats, Ishigaki offers all kinds of accommodation and fun things to do regardless of whether you're looking to splurge or keep a tight grip on the purse strings.
What to do in Ishigaki
1. Go Diving
If there was ever a place where you are guaranteed to spot or swim with giant manta rays, then Ishigaki is it. Located just a few miles from Kabira Bay is Ishigaki's famed manta scramble where you can wonder at these majestic sea creatures.
2. Watch (or Take Part in) The Ishigaki Triathlon
This annual event held in April transforms the city and attracts local and international athletes, bringing the center of the city to life.
3. Have Paddle, Will Kayak
Home to mythical-looking mangrove forests and rivers winding through them, Ishigaki is a great place for kayaking. It is thought to have been home to the first long-distance kayakers, and the tradition has held on.
4. Goggle Up
Ishigaki features pristine coral reefs that give the lagoon a distinct hue. The reefs here are located close to the shoreline, and you don't have to go diving to enjoy their beauty. With live reefs, tropical fish, and manta rays galore, snorkeling here is a must.
5. Visit Banna Park
Bordering a 650-ft-high mountain a few miles north of the city, this park has tranquil paths linking distinct zones that are ideal for every adventurer. The Forest Passeo Square is lined with beautiful flowers teeming with butterflies, while the observation nature square features hiking trails, making it the best place to bird watch and spot different wildlife.
A popular activity in Ishigaki
Taketomi Island Water Buffalo Cart & Bike Rental from Ishigaki
Find activities
Top activities in Ishigaki
Taketomi All-In-One Island Day Trip from Ishigaki
Duration: 3h
《Departure from Ishigaki Island》 Phantom island landing & snorkeling 3 hours 30 minutes tour
Duration: 3h 30m
Iriomote Kayaking and Trekking Day Tour to Sangara Falls from Ishigaki
Duration: 8h
When to Visit Ishigaki
Ishigaki summers fall between early June and late November. Unlike most of Japan, which is temperate, Ishigaki is mostly semi-tropical. Winters fall between January and February with temperatures between 60-70 degrees. July sees the popular Orion Beer Festival come to town with live music and performances, as well as the Ishigaki Harbor Festival held every year on July 17, known as Japan's "ocean's/marine day". The harbor also plays host to the monthly Sanbashi Market, where you can sample local cuisine while overlooking the ocean.
How to Get to Ishigaki
Plane
You can fly to Ishigaki from Tokyo in just over three hours, or from either Osaka (two hours), Okinawa (one hour), or Hong Kong (one hour). There is also a direct flight from Taipei. Buses head from the airport into the center of the city every 15 minutes between 7 a.m. and 9 p.m. The journey takes 40 minutes and costs JPY540. A taxi will cost about JPY3,000.
Boat
Being an Island, Ishigaki is only accessible either by plane or by sea. Access by sea can be limited. Some cruise ships out of Taiwan pass through, but the usual way of getting to Ishigaki by water is to take a ferry from another island in the archipelago.
Airlines serving Ishigaki
Show more
Where to Stay in Ishigaki
Ishigaki accommodations come in a wide variety of tastes and features from up-market boutique hotels to a cluster of less-crowded luxury villas and private beach homes. The Tsundara Beach Retreat comes with its own private beach! The property itself is set in stately manicured gardens almost 3 acres in size. Jusandi is a private villa that is ideal for a large family or friends and offers lavish villas with self-catering and chic styling. It is within close proximity of Yonehara Beach, so you can marvel at gorgeous sunsets. Shiraho Friends House is a well-located option of the budget conscious; breakfast is prepared upon request for a fee. If you want to be well connected to sites, transport, and shopping outlets, staying in Ishigaki City is your best bet. If you're looking to escape, head to Kabira Bay.
Where to stay in popular areas of Ishigaki
Most booked hotels in Ishigaki
How to Get Around Ishigaki
Public Transportation
Frequent bus services run throughout Ishigaki. To save on transport costs, you can opt for a multi-day bus pass for the Airport-Kabira Resort Line only, which costs JPY1,000, or for the Michikusa pass, allowing use on all bus lines, which costs JPY2,000 for five days.
Taxis
Taxis are plentiful on the island. You'll pay JPY460 for the flag drop and JPY60 for every 0.2 miles after that.
Car
Car hire is available from companies such as Times Car Rental and Orix Rent-a-Car. Prices start at around JPY4,000 per day.
The Cost of Living in Ishigaki
Shopping
Euglena Mall in the center of the city is lined with stores and arcades that are souvenir-shopping nirvana. The southern part of the mall has more to offer, with the streets surrounding the mall packed with the best outlets Ishigaki has to offer. Souvenir t-shirts cost roughly JPY500 to JPY1,500.
Supermarkets and Food Stores
Ishigaki boasts stores such as Coco, Kanehide, and Arakawa's Max Value. These are the best options for groceries, toiletries, and other essentials. A packet of milk will set you back JPY100 as will a dozen eggs.
Where to Eat in Ishigaki
The cooking traditions in Ishigaki combine Chinese, Japanese, and Western influences. Ishigaki has a huge selection of eateries serving mostly traditional Japanese cuisine. Kutsunayu is popular for Yaeyoma Soba and is located in a traditional stonewall house lined with hibiscus.
Another Japanese specialty is Ishigaki beef, which is raised in the Yaeyama region for a certain period and is of a specific black-coated variety. Ishigakiya is the best restaurant for this type of local beef, served with island vegetables. Expect to pay between JPY1,000 and JPY2,500 for a standard meal on the island.
Other popular cities in Okinawa Prefecture