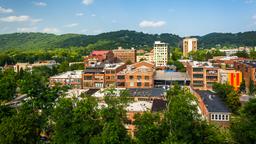 Asheville car rentals
Search hundreds of travel sites at once for car rental deals in Asheville
Asheville, NC, United States
Asheville car rental information
| | |
| --- | --- |
| Pick-up location | Asheville |
| Rental locations | 10 |
| Airport locations | 3 |
Asheville car hire reviews and directory
Thrifty

╳
Thrifty reviews
Car hire locations
Thrifty
Locations in Asheville
61 Terminal Drive
+1 828 687 2513
| | |
| --- | --- |
| Monday | 08:00 - 23:59 |
| Tuesday | 08:00 - 23:59 |
| Wednesday | 08:00 - 23:59 |
| Thursday | 08:00 - 23:59 |
| Friday | 08:00 - 23:59 |
| Saturday | 08:00 - 23:59 |
| Sunday | 08:00 - 23:59 |
8.0 Excellent
27 Jul 2018
Cons:
only a pickup truck, prefered other
Fast, but confusing.
Pros:
The Asheville drop off was exactly that. Once we found out where to leave the vehicle, it was very quick and they were very friendly.
Cons:
There were no signs indicating where to leave the car. There were signs for every other rental company, but none for Thrifty.
Pros:
Price of the rental was great and the van was comfortable while driving it.
Cons:
Two seat belts were broken and I was told there was a fee to drop off at another location. I was called to drop off at another location which caused confusion because never got an answer until I called the person back again. Van was very nasty on the inside when I picked up and I had to vacuum van out.
Pros:
I didn't end up renting the car because there was a hidden fee that doubled the price. When choosing a rental on kayak, I specifically looked for unlimited mileage. When I told the cashier I was driving to saint Louis he said it was out of my zone and would double the price. So I did not rent the car.
Would never use Kayak or Thrifty again....
Pros:
Nothing...see my headline....
Cons:
It turned that I paid twice as much as I was originally quoted. Take note future Kayak users! This is the first time that I used Kayak and Thrifty..will never ever use this service and car rental again!!!
Things I didn't like
Cons:
Service attendant.She was really crabby. My car wasn't cleaned. No wind shield wash. Was charged $about 49.I drove it less than 50 miles.Was charged $14 for gas to refill it. Needle hadn't moved.couldnt drop it off at airport. Staff in Greer S.C. Awesome when I returned it( was picked up in N.C.) shuttle to airport was great
Overcharged for employee Error
Cons:
The first employee i dealt with was VERY rude/ Second one rang my return time in wrong, then charged me later for it.
Mixed feelings
Pros:
Price on the car was extraordinarily low.
Cons:
Took 30+ minutes for the van to pick us up at the Asheville airport. Checkin counters had 1 computer working. People waiting a long time to get car. Expected a regular car, got a Ram Hemi 4 door pickup- just for me.
Cons:
There was a fee for being driven to the rental office. I don't remember seeing that charge online and wasn't happy about it. I think a cab would have been cheaper. It was a $10 charge. It wasn't the small car I had reserved, got an upgrade to a suv which made things more difficult getting in and out.
Pros:
Car was newish with low miles, quick drop-off.
Cons:
Location hard to find, not at airport, no signage on street or building - just faded, worn off Hertz sign; understaffed, nice staff but not focused; received a dirty car (mud on floor, dirt on seats, dirty all over outside) inside and out and was asked to accept it had to wait additional 30 minutes for staff to take car offsite to be washed. Car had been smoked in and sprayed with smoke 'cover-up' which made all who entered car smell; car ran mostly fine but strained on the highway with engine running high rpm; tried to scare into buying insurance.
Hertz

╳
Hertz reviews
Car hire locations
Hertz
Locations in Asheville
61 Terminal Drive Ste 15
+1 828 684 6455
| | |
| --- | --- |
| Monday | 07:00 - 23:59 |
| Tuesday | 07:00 - 23:59 |
| Wednesday | 07:00 - 23:59 |
| Thursday | 07:00 - 23:59 |
| Friday | 07:00 - 23:59 |
| Saturday | 07:00 - 23:59 |
| Sunday | 07:00 - 23:59 |
891j Patton Avenue
+1 828 225 1828
| | |
| --- | --- |
| Monday | 07:30 - 18:00 |
| Tuesday | 07:30 - 18:00 |
| Wednesday | 07:30 - 18:00 |
| Thursday | 07:30 - 18:00 |
| Friday | 07:30 - 18:00 |
| Saturday | 09:00 - 13:00 |
| Sunday | |
10.0 Excellent
20 Sep 2016
Great experience
Pros:
The car was comfortable and clean and we really enjoyed have the Sirius XM radio. It helped to have the entertainment on our 14 hour drive to and from Kansas City! Absolutely no problems. Customer service was great at pick up and drop off.
Cons:
Would have been nice to have a CD player so we could listen to audio books.
Pros:
Staff at location was nice.
Cons:
They didn't have a cleaned vehicle for us. Found a box of uneaten chicken wings under the passenger's seat, several hours into our trip. Not happy about that or that they were not prepared for us to pick up a vehicle that day, even though we had made reservations several days in advance.
8.0 Excellent
21 Nov 2015
Car had mehanical problems
Pros:
Great gas mileage of the car
Cons:
Car had a "wobble" noise from one of the wheels
10.0 Excellent
16 Jan 2016
I love hertz!
Pros:
Always excellent service!
Pros:
another great rental experience with Hertz. they have never failed me.
Service was awful
Cons:
The pickup took forever. The employee was new and no one was there to help him. He made mistakes. The car was under someone else's name when I went to drop it off. The drop off also took forever.
Hertz would not honor reservation
Pros:
Nothing. Awful experience.
Non-Hertz Like Experience
Cons:
I had to wait at AVL while a car was received in and then the car had not been cleaned while also being two classes. Slow the one I ordered. In ATL at turn in. Slow response and confusion in prioritizatikn process which delayed my departure. Also unable to provide me a receipt at turn in.
10.0 Excellent
27 Mar 2017
Pros:
Drop off took less than 30 seconds
Cons:
A little trouble with processing paper work and billing. Staff very pleasant and helpful
10.0 Excellent
19 Dec 2017
Very helpful employee
Pros:
Maggie explained everything in thorough detail. Her attention to customer service is unprecedented. I have never rented with her to before but I will if Maggie is the standard.
Cons:
Car was very difficult to drive
Enterprise

╳
Enterprise reviews
Car hire locations
Enterprise
Locations in Asheville
168 Smokey Park Hwy
+1 828 665 2389
| | |
| --- | --- |
| Monday | 07:30 - 18:00 |
| Tuesday | 07:30 - 18:00 |
| Wednesday | 07:30 - 18:00 |
| Thursday | 07:30 - 18:00 |
| Friday | 07:30 - 18:00 |
| Saturday | 08:00 - 12:00 |
| Sunday | 00:00 - 00:00 |
26 Tunnel Rd
+1 828 333 9823
| | |
| --- | --- |
| Monday | 07:30 - 18:00 |
| Tuesday | 07:30 - 18:00 |
| Wednesday | 07:30 - 18:00 |
| Thursday | 07:30 - 18:00 |
| Friday | 07:30 - 18:00 |
| Saturday | 08:00 - 16:00 |
| Sunday | 13:00 - 17:00 |
579 Tunnel Rd
+1 828 298 6914
| | |
| --- | --- |
| Monday | 07:30 - 18:00 |
| Tuesday | 07:30 - 18:00 |
| Wednesday | 07:30 - 18:00 |
| Thursday | 07:30 - 18:00 |
| Friday | 07:30 - 18:00 |
| Saturday | 08:00 - 12:00 |
| Sunday | 00:00 - 00:00 |
954 Patton Ave
+1 828 255 0236
| | |
| --- | --- |
| Monday | 07:30 - 18:00 |
| Tuesday | 07:30 - 18:00 |
| Wednesday | 07:30 - 18:00 |
| Thursday | 07:30 - 18:00 |
| Friday | 07:30 - 18:00 |
| Saturday | 08:00 - 12:00 |
| Sunday | 00:00 - 00:00 |
Okay
Pros:
The car got great gas mileage which is what I was looking for a business trip I had to take.
Cons:
The car was dirty inside! There was still trash in it when I got in. The cup holders and every crevice was crusted with who knows what. There were no floor mats so lots of stains. Glad I didn't have to take any clients in there with me! The windshield wipers needed to be replaced desperately which I didn't know until I had to drive on the highway in the pouring down rain and could barely see! They could do a lot better with the maintenance of their cars. Seemed like a bunch of young guys working there who couldn't have cared less.
10.0 Excellent
19 Nov 2016
Will continue to use them for rentals
Pros:
They to me to where my car was parked to get my luggage and back to my car when i returned. They provide a safe close parking lot for convience.
Pros:
the staff were great and helpful, the car was clean and fine.
Cons:
I HATE that they fill it up only half way and expect you to figure out how many gallons to fill it up half way. It feels like a cheap trick to get more money without really saying so and it makes the whole experience negative. Why do car companies do this. It's SO obvious. If they would state it up front before renting, it's different, but I didn't know. I will go back to Budget because they give me a full tank of gas. It may not be a lot of difference but I hate being taken advantage in ways that don't feel honest.
10.0 Excellent
27 Mar 2017
SUV Weekly rental
Pros:
Virtually brand new vehicle - perfect!!
Cons:
Location (but not a deal-breaker)
9.6 Excellent
27 May 2017
Fast, friendly, forgiving
Pros:
Easy pick up & drop off, and they were kind when I had a flight delay that impacted my return. Car was in good shape, good value for the money.
Not good!!
Pros:
Enterprise did not hav a vehicle for us. Paid for insurance but not able to rent the car.
8.4 Excellent
16 Nov 2016
Cons:
Hard to understand all the controls, and it had no manual.
10.0 Excellent
13 Mar 2017
Excellent Service!!!
Pros:
I dropped the car of at Entreprise Asheville NC. These folks were even nicer, faster and more professionals than the other ones... if that is even possible. Overall, it was a very positive experience.
Why reserve
Cons:
I reserved a premium sedan, the options I had was compact, mini van or a truck none which I wanted. If I'm not getting what reserved why bother reserving other than just holding spot? Very poor experience, I don't drive big trucks, but that was my only option. Parking and rough ride made for difficult weekend
Pros:
i could book online
Cons:
didnt tell me they were out of stock until the next morning
Avis

╳
Avis reviews
Car hire locations
Avis
Locations in Asheville
3 South Tunnel Road
+1 828 299 3644
| | |
| --- | --- |
| Monday | 08:30 - 18:00 |
| Tuesday | 08:30 - 18:00 |
| Wednesday | 08:30 - 18:00 |
| Thursday | 08:30 - 18:00 |
| Friday | 08:30 - 18:00 |
| Saturday | 08:00 - 13:00 |
| Sunday | 10:00 - 14:00 |
10.0 Excellent
24 Jul 2016
Trustable 100%
Pros:
Excellent everything!!
Cons:
Took a little time the pick up
Wrong Car
Pros:
I did not receive the SUV that I rented online.
Pros:
Drop-off staff was helpful
Cons:
Car smelled like smoke. Pick-up was slow and sales rep was distracted. Expensive for what we got
Budget

╳
Budget reviews
Car hire locations
Budget
Locations in Asheville
3 South Tunnel Road
+1 828 299 4191
| | |
| --- | --- |
| Monday | 08:30 - 18:00 |
| Tuesday | 08:30 - 18:00 |
| Wednesday | 08:30 - 18:00 |
| Thursday | 08:30 - 18:00 |
| Friday | 08:30 - 18:00 |
| Saturday | 08:00 - 13:00 |
| Sunday | 10:00 - 14:00 |
Pros:
I got to where I was going safely
Cons:
The blue tooth was impossible to connect to, and then when you plugged the use into the car to charge your phone it would not play through the car speakers. So basically impossible to hear directions and to listen to your own music. This sucked. Further more the back seats in the car looked like they were attacked by a cat. And the car absolutely needed some engine/transmission work done. I rent cars frequently and this is my first bad experience. Just a sub par rental car. But I am renting another car today, hope for the best.
10.0 Excellent
22 Jun 2016
Great service no hassle and good price
Pros:
Price, service and availability. They usually upgrade me too. The car was excellent.
Pros:
Nothing. Terrible customer service
Cons:
The lady who gave the car to me didn't have my car, didn't offer to refund the difference of the smaller car. Worst car experience ever.
10.0 Excellent
25 May 2016
Cons:
When I was returning the car, looks like your system is too complicated or not user friendly because clerk was doing too much with computer, this took a while.
Took my reservation. Didn't have a car for me.
Pros:
Said the cars that were there were reserved for other people. I said on well I have a reservation also, how come you aren't honoring mine but you're honoring theirs? No response. Got upset with me like it was my fault. Finally reached the conclusion that I could take a 12 passenger van as its the only car there that wasn't reserved. Again I don't know why my reservation wasn't as important. Anyway, I booked an economy car, so when I asked for a discount on a 12 passenger van as it is way to big for my use and will cost way more in gas mileage, she balked at me and acted as if I were crazy for even suggesting such a thing. Terrible customer service and overall lack of understanding of how to run a business.
"Reservation" does not mean that Budget will actua
Cons:
I went to pick up my mid-sized SUV to find out that Budget did not have it and wouldn't have it. They indicated that they were not responsible for this error as someone else who was supposed to return the vehicle extended and they have no control over that. They offered a "full sized" car or 4-door pick up instead - for a higher cost (of course because they were more expensive options). Seems like if they don't have the car they promised, they should make it right without additional expense. I did agree to the sedan they offered (what choice did I have?) and then compared their list of scratches to what was really on the car. Many more on the car than what they reported, including ding in windshield and tape residue all over the inside of the windshield, which I had to scrape off with a razor so that I could see clearly on my trip. The car was dirty - food in the seat and smeared on the back of the front seat. I will pass on Budget as an option in the future.
Easy
Cons:
WOuldn't have wanted to stay long-- smells like tires!!
Pros:
They did not have a car.
Cons:
They did not have a car.
Car was located at off-site rental location, not a
Cons:
The car I reserved was located 22 miles away off airport location. Internet booking did not indicate this at all. Agent at airport had me pay higher rate for a one day rental then gave incorrect information regarding swapping out the cars the next day. Paid twice as much for a smaller car and endured the hassle of dealing with the whole mix-up while on vacation. Budget just lost another customer.
10.0 Excellent
11 Jul 2018
Great customer service at pick-up!
Pros:
The counter representative in Asheville was outstanding and we were very happy with our car!
Sunnycars

Sunnycars
Locations in Asheville
105 travellers who rented a car in Asheville gave the car agency they used an average rating of 6.1
Car rental locations in or near Asheville
When to book a rental car in Asheville
Average daily price per month
Car hire prices as pick-up date approaches
Top tips for renting a car in Asheville
Asheville has plenty to offer, from a vibrant arts scene to historical buildings, and, of course, the Blue Ridge Mountains, which are a 1-hour drive from the center. Don't miss out on any of Asheville's attractions and rent a car to get the most out of your visit. Many of the outer attractions, including the Blue Ridge Mountains, are not available with public transport and a car will give you the most flexibility to explore the city and surroundings in your own time.
Asheville Regional Airport features five on-site car hire companies which offer vehicles for all tastes. Follow the signs out of the terminal to their service desks and pick up a car to be in Asheville center in less than half an hour via the I-26 W. The transfer will take almost an hour with public transport, so the most convenient way to start your time is with a hire car directly from the airport. If arriving by train or bus, there are also car hire locations in the city -- for instance, in Tunnel Road or Patton Avenue.
Asheville has wonderfully breathtaking scenic routes; however, these routes are also very steep in some places and it is important to shift to a lower gear instead of breaking down on your way. If braking too much, the brakes can overheat and, in the worst case scenario, stop working altogether. Drive slowly through the winding roads in and around Asheville as well, especially in winter, with snow and ice possibly on the streets. Ensure the hire car has winter tires, make sure to adjust your speed, and have some extra snacks and thermos flasks ready in the car in case you get stuck.
The I-240 goes right through the heart of Asheville and the I-40 is a major route connecting many places, so these roads can be congested when commuters come into Asheville in the morning between around 7-9am and leave the city between 5-8pm. If going west, the US-23 can be an alternate route, depending on your ultimate goal.
Book your rental car in Asheville at least 2 weeks before your trip in order to get a below-average price
FAQs about renting a car in Asheville
What is the best rental car company in Asheville?
Based on ratings and reviews from real users on KAYAK, the best car rental companies in Asheville are Alamo (8.7, 6471 reviews), Enterprise (8.5, 12881 reviews), and Budget (7.4, 4197 reviews).
How can I find car rentals near me in Asheville?
Take a look at our extensive car rental location map to find the best rental cars near you.
What type of car is recommended for driving in Asheville?
If you're planning to venture out into the mountains, it is recommended to opt for a 4-wheel-drive car, as there are gravel roads that will require additional road grip. A 4-wheel-drive car is also a good choice for winter driving conditions and is a real all-rounder for the area.
What's the speed limit in Asheville?
It is important to always adapt speed to the prevailing weather and road conditions, but general regulations allow 25 mph in residential areas and only 10 mph around schools or pedestrian areas. Up to 55 mph is permitted on rural roads, and 55-60 mph on most freeways. Keep an eye out for signs that indicate speed limits.
How are gas prices in Asheville?
The average petrol price in Asheville lies at $2.55 per gallon, but petrol stations like Sam's Club or Hot Spot can offer rates as low as $2.35, so look out for those. When venturing out of the city, into the forest, and up through mountainous areas, make sure to refill the tank beforehand, as petrol stations are scarce up there.
Where are the best places to park in Asheville?
On-street parking is metered in Asheville and costs around $1.50 per hour, but check the sign for details. On Sundays and public holidays, on-street parking is free. There are also parking garages to consider, such as the Civic Center Garage with its daily maximum of about $10, the Wall Street Garage, or the Rankin Avenue Garage.