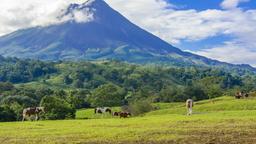 Alajuela car rentals
Search hundreds of travel sites at once for car rental deals in Alajuela
Alajuela car rental information
| | |
| --- | --- |
| Pick-up location | Alajuela |
| Rental locations | 12 |
| Airport locations | 10 |
Alajuela car hire reviews and directory
Ace

╳
Ace reviews
Car hire locations
Ace
Locations in Alajuela
Across from Hampton Inn Hotel
+506 2105 3466
| | |
| --- | --- |
| Monday | 06:00 - 22:00 |
| Tuesday | 06:00 - 22:00 |
| Wednesday | 06:00 - 22:00 |
| Thursday | 06:00 - 22:00 |
| Friday | 06:00 - 22:00 |
| Saturday | 06:00 - 22:00 |
| Sunday | 06:00 - 22:00 |
Terrible customer experience
Pros:
The car was good but we could have got that anywhere
Cons:
On your website when booking the car youare advised to pay for insurance, which we did as per this recommendation. When we turned up to collect the car, Ace told us this insurance we bought through your recommendation didn't count and we had to pay an extra £400 for their insurance otherwise we couldn't leave. This was not mentioned anywhere at booking and should never have been advised by you online to purchase an insurance that didn't work for the car!! So not only did we waste £144 on insurance that was totally redundant, but the car itself was 3 times more than proposed. Rest assured we will never use yours or Ace's service again
Don't use this company
Cons:
Took a half hour to get picked up from airport and by the time we arrive to the company 1.5 hours late they had already cancelled our reservation! Only available car was smaller and more expensive.
Ace not available at airport - left us hanging
Cons:
When making the reservation I thought Ace would have a counter at the airport for easy pickup. That was not the case. Their pickup location was off site. We ended up using a different rental car company that we could actually find at the airport.
Cons:
we had to pay 600 $ more for the insurance that what mandatory even if it was not indicated on the contract made with you we tried to negotiate with the car rental office but they would give us the car unless we paid for the insurance finally the final price went up to 999$ instead of 324$ if with the insurance of our american express card and even if we had accepted your insurance the car company argued it was a government which had to apply we ask you for the refund of half of this overcharge
Avoid
Cons:
The SUV that I reserved was not available. I flew all the way from the states with a surfboard and they couldn't provide the vehicle I reserved to fit my board. The service team did not show any remorse. They offered to pull up a standard car to see if the board would fit. We waited 30 minutes for this occur before we left and rented from another company. From my research, this happens quite often. I suggest spending the additional money and renting somewhere else.
10.0 Excellent
29 Jan 2017
Pros:
I was unable to rent due to certain cicumstances and was still able to get a full refund. Very satisfied customer
10.0 Excellent
21 Feb 2017
Pros:
Louis greeted us at the desk-he was so HELPFUL, giving us wifi trying to call our hotel and calling a taxi for us. This might sound as if it was easy to help but there seemed to be a problem in every situation. He kept a smile and just kept helping us!!!! Did I mention we were very late because of traffic? We felt very comfortable with him and we feel his customer service was A+5star. Thank you. Car was clean and efficient. Return was smooth ,we had to call because we were going to be over an hour late(nearly 2,after traffic), and there was no problem.
Expect added fees
Pros:
I liked that the car held up during our trip.
Cons:
They added an extra required $20 a day fee I did not expect. They had no shuttle waiting for us at the airport. We had to get other car rental representatives to call them for us.
Beware! They will use every trick to separate you
Cons:
If you use this company, be prepared to be ripped off. I purchased insurance beforehand when I made the reservation, but when we arrived they said that I had to purchase a different one for nearly $300. Then, after we drove off with the car, I noticed that the fuel tank was only half full, but they had marked completely full on the paperwork. Finally, since I declined additional insurance (beyond the $300 above), they put a $3000 hold on my card.
Watch out
Pros:
Pick up and drop off
Cons:
Please read on - 2 items to watch out for! We returned the vehicle, removed our luggage and left the emergency car kit with a flasher, yield sign, etc. in a bag in the car. I went inside and returned the key. the attendant came and inspected the vehicle and everything checked out except the emergency car kit was missing. I told him that only minutes earlier the kit was there. I asked if it was possible that they removed the kit from the vehicle and he said no. I talked to other employees and got the same response. ACE was determining the charges when I loudly protested the event. Unfortunately I don't speak or understand Spanish (shame on me!). Then I saw one of ACE's employees that came from a different direction and returned the kit. There was no explanation from ACE, just a sorry statement. I am not accusing ACE staff of a set up to charge me more but why would you remove a kit that stays with the vehicle and when I asked if they could have removed it and I was told no by more than one person. Issue #2. We did not purchase insurance from Kayak since it did not say it was mandatory or I missed it. My rental charges were $73 and ACE demanded $549 for the full insurance coverage for 6 days. At Kayak site it was $54. I have insurance coverage with my own policy and with my credit card but ACE insisted that I had to purchase their policy or they would not rent to me. I finally paid $200 and a $3000 deductible charged on my credit card. It was my bad not to buy it online for the lower amount but to charge 1000% is robbery.
Budget

10.0 Excellent (1 review)
╳
Budget reviews
Car hire locations
Budget
Locations in Alajuela
3km From Intl Apo
+506 2436 2000
| | |
| --- | --- |
| Monday | 05:00 - 23:59 |
| Tuesday | 05:00 - 23:59 |
| Wednesday | 05:00 - 23:59 |
| Thursday | 05:00 - 23:59 |
| Friday | 05:00 - 23:59 |
| Saturday | 05:00 - 23:59 |
| Sunday | 05:00 - 23:59 |
10.0 Excellent
24 Jan 2018
Budget was great
Pros:
Smooth pick up and drop off. Was shuttled back and forth from my San Jose hotel
Cons:
Bought supplemental insurance from Allianz from Kayak site that Budget in Costa Rica didn't accept. Wasted $90
NU Car

╳
NU Car reviews
Car hire locations
NU Car
Locations in Alajuela
1.4km E. Of Holidayinn Express
+506 2442 6000
| | |
| --- | --- |
| Monday | 06:00 - 22:30 |
| Tuesday | 06:00 - 22:30 |
| Wednesday | 06:00 - 22:30 |
| Thursday | 06:00 - 22:30 |
| Friday | 06:00 - 22:30 |
| Saturday | 06:00 - 22:30 |
| Sunday | 06:00 - 22:30 |
All NU Car reviews
NU Car reviews in Alajuela
Payless
╳
Payless reviews
Car hire locations
Payless
Locations in Alajuela
Juan Santa Maria Intl Apo
+506 2430 4647
| | |
| --- | --- |
| Monday | 06:00 - 22:00 |
| Tuesday | 06:00 - 22:00 |
| Wednesday | 06:00 - 22:00 |
| Thursday | 06:00 - 22:00 |
| Friday | 06:00 - 22:00 |
| Saturday | 06:00 - 22:00 |
| Sunday | 06:00 - 22:00 |
A Big Scam
Cons:
They made me purchase insurance even though I already had pay it ahead of time thru a third party company. They said that the minimum amount I had to pay per day was $40 dollars otherwise I couldn't rent the car.
Pros:
Drop off location was fine.
Cons:
Pickup location "insurance" requirement - see my previous post.
Didn't rent
Pros:
Office was closed when we arrived late because of plane delay. No message sent to our email. Luckily, Dollar rental was still open and had a car for us - excellent experience with them.
Cons:
The Costa Rican mandatory insurance was not included in part of the cost. Also, the brakes were very spongy, forcing me to use the emergency brakes down steep hills.
Bait and Switch
Pros:
Availability of vehicles on hand and excellent customer service.
Cons:
The cost that was presented during the online booking process did not remotely come close to the actual cost during the car rental pickup. I ended up paying close to $1,000 overall. Also, I paid for full coverage for car insurance online as part of the online booking process so it can be ready upon pickup. But Payless did not honor the online car insurance purchase and therefore in order to finalize the car rental transaction with Payless I had to purchase their car insurance. Although Payless provided great service and had excellent cars for rent I did not appreciate the blatant disparities in cost and having to purchase 2 full coverage car insurances. I don't see myself renting from Payless again.
Pros:
Good customer service.
Cons:
Windshield wipers were useless. Interior light was broken. Had to lock and unlock car with the key ie the key buttons were broken or battery was dead.
Had a break failure
Cons:
Paid $800+ for 5 days, but when I stated the riding, the ride was really bad. Still choose to use it for 5 days. During 5th day driving down from Irazu Volcano, the break failed suddenly.. Holding the hand break and pressing break pedal didn't stop the car. To avoid life threatening accident, I had to hit a post to stop the car. Still wife is suffering with pain. When I called Payless to report the incident, amazed to know that no question about if the passengers are ok.. After 2:45 hours got a replacement car, with dirty smell from the rear side. After reaching the payless rental place to return the call, when I explained these incidents, their reaction was the worst, it's almost like who cares if the break failed or the replacement call smelled.. Will find out the options to take action. Don't rent from Payless if you are going to Costa Rica.
Cons:
Knowing that insurance for three weeks would cost $1,500 and that I needed letters from my insurance company and credit card company to verify insurance would have been honest. I was very unhappy to learn this at the counter after a day of traveling. Dishonest practice.
Cons:
Car rate with Insurance is a RIP. Spent more on car rental than hotel for a week.
Economy Rent a Car

╳
Economy Rent a Car reviews
Car hire locations
Economy Rent a Car
Locations in Alajuela
Alajuela Airport Boulevard
+506 2299 2000
FRAUDELENT!
Cons:
The reservation was booked on Kayak.com for approximately USD $144 for 2 days. Upon arrival they claimed to have absolutely no inventory, then, after waiting ~2 hours, they colluded with a partner rental company and charged my credit card USD $1,000.00 for a 2 day rental. Criminal!
Avis

Avis
Locations in Alajuela
Ruta San Antonio Del Tejar
+506 2509 5950
| | |
| --- | --- |
| Monday | 05:00 - 23:00 |
| Tuesday | 05:00 - 23:00 |
| Wednesday | 05:00 - 23:00 |
| Thursday | 05:00 - 23:00 |
| Friday | 05:00 - 23:00 |
| Saturday | 05:00 - 23:00 |
| Sunday | 05:00 - 23:00 |
EC Rent a Car

EC Rent a Car
Locations in Alajuela
Provincia de Alajuela, Rio Segundo, , Costa Rica
+506 7004 0090
GREEN MOTION

GREEN MOTION
Locations in Alajuela
ALAJUELA AIRPORT Office is located across from Hampton Inn Hotel
+506 2441 1411
keddy by Europcar

keddy by Europcar
Locations in Alajuela
MEXRENTACAR

MEXRENTACAR
Locations in Alajuela
Right Cars

Right Cars
Locations in Alajuela
Target Car Rental

Target Car Rental
Locations in Alajuela
59 travellers who rented a car in Alajuela gave the car agency they used an average rating of 4.4
Car rental locations in or near Alajuela
When to book a rental car in Alajuela
Average daily price per month
Car hire prices as pick-up date approaches
Top tips for renting a car in Alajuela
Book your rental car in Alajuela at least 1 day before your trip in order to get a below-average price
FAQs about renting a car in Alajuela