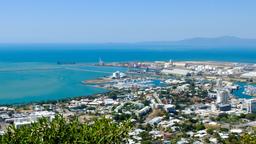 Townsville car rentals
Search hundreds of travel sites at once for car rental deals in Townsville
Townsville, QLD, Australia
Townsville car rental information
| | |
| --- | --- |
| Pick-up location | Townsville |
| Rental locations | 21 |
| Airport locations | 12 |
Townsville car hire reviews and directory
Sunnycars

3 locations in Townsville
Sunnycars
Locations in Townsville
Avis

Avis
Locations in Townsville
81-83 Flinders Street East
+61 747 992 022
| | |
| --- | --- |
| Monday | 08:00 - 17:00 |
| Tuesday | 08:00 - 17:00 |
| Wednesday | 08:00 - 17:00 |
| Thursday | 08:00 - 17:00 |
| Friday | 08:00 - 17:00 |
| Saturday | 08:00 - 12:00 |
| Sunday | 09:00 - 12:00 |
Terminal Building
+61 747 627 400
| | |
| --- | --- |
| Monday | 07:30 - 22:15 |
| Tuesday | 07:30 - 22:15 |
| Wednesday | 07:30 - 22:15 |
| Thursday | 07:30 - 22:15 |
| Friday | 07:30 - 22:15 |
| Saturday | 07:30 - 22:15 |
| Sunday | 07:30 - 22:15 |
Budget

Budget
Locations in Townsville
Terminal Building
+61 747 627 433
| | |
| --- | --- |
| Monday | 07:30 - 22:15 |
| Tuesday | 07:30 - 22:15 |
| Wednesday | 07:30 - 22:15 |
| Thursday | 07:30 - 22:15 |
| Friday | 07:30 - 22:15 |
| Saturday | 07:30 - 22:15 |
| Sunday | 07:30 - 22:15 |
Via Townsville Airport
+61 747 627 433
| | |
| --- | --- |
| Monday | 08:00 - 13:00 |
| Tuesday | 08:00 - 13:00 |
| Wednesday | 08:00 - 13:00 |
| Thursday | 08:00 - 13:00 |
| Friday | 08:00 - 13:00 |
| Saturday | |
| Sunday | |
Europcar

Europcar
Locations in Townsville
305 Ingham Road
+61 747 627 050
Terminal Building
+61 747 601 380
Hertz

Hertz
Locations in Townsville
32 Bombala St
+61 747 289 530
| | |
| --- | --- |
| Monday | 08:00 - 16:00 |
| Tuesday | 08:00 - 16:00 |
| Wednesday | 08:00 - 16:00 |
| Thursday | 08:00 - 16:00 |
| Friday | 08:00 - 16:00 |
| Saturday | 08:00 - 12:00 |
| Sunday | |
Townsville Airport
+61 747 754 821
| | |
| --- | --- |
| Monday | 07:00 - 22:00 |
| Tuesday | 07:00 - 22:00 |
| Wednesday | 07:00 - 22:00 |
| Thursday | 07:00 - 22:00 |
| Friday | 07:00 - 22:00 |
| Saturday | 08:00 - 19:30 |
| Sunday | 08:00 - 22:00 |
keddy by Europcar

keddy by Europcar
Locations in Townsville
Terminal Building- Townsville Airport
61 7 47601380
| | |
| --- | --- |
| Monday | 07:30 - 22:00 |
| Tuesday | 07:30 - 22:00 |
| Wednesday | 07:30 - 22:00 |
| Thursday | 07:30 - 22:00 |
| Friday | 07:30 - 22:00 |
| Saturday | 07:30 - 22:00 |
| Sunday | 07:30 - 22:00 |
Red Spot

Red Spot
Locations in Townsville
329 – 333 Ingham Road Garbutt
+61 467 770 034
Thrifty

Thrifty
Locations in Townsville
289 Ingham Rd
+61 747 254 600
| | |
| --- | --- |
| Monday | 07:30 - 17:00 |
| Tuesday | 07:30 - 17:00 |
| Wednesday | 07:30 - 17:00 |
| Thursday | 07:30 - 17:00 |
| Friday | 07:30 - 17:00 |
| Saturday | |
| Sunday | |
Townsville Ap
+61 747 254 655
| | |
| --- | --- |
| Monday | 07:30 - 22:00 |
| Tuesday | 07:30 - 22:00 |
| Wednesday | 07:30 - 22:00 |
| Thursday | 07:30 - 22:00 |
| Friday | 07:30 - 22:00 |
| Saturday | 07:30 - 16:30 |
| Sunday | 08:00 - 22:00 |
Alamo

Alamo
Locations in Townsville
Terminal Building Garbutt
+61 747 793 891
| | |
| --- | --- |
| Monday | 07:30 - 22:00 |
| Tuesday | 07:30 - 22:00 |
| Wednesday | 07:30 - 22:00 |
| Thursday | 07:30 - 22:00 |
| Friday | 07:30 - 22:00 |
| Saturday | 07:30 - 22:00 |
| Sunday | 08:00 - 22:00 |
Enterprise

Enterprise
Locations in Townsville
Terminal Building
+61 747 793 891
| | |
| --- | --- |
| Monday | 07:30 - 22:00 |
| Tuesday | 07:30 - 22:00 |
| Wednesday | 07:30 - 22:00 |
| Thursday | 07:30 - 22:00 |
| Friday | 07:30 - 22:00 |
| Saturday | 07:30 - 22:00 |
| Sunday | 08:00 - 22:00 |
Firefly

Firefly
Locations in Townsville
Stinson Ave
+61 747 754 821
| | |
| --- | --- |
| Monday | 07:30 - 22:00 |
| Tuesday | 07:30 - 22:00 |
| Wednesday | 07:30 - 22:00 |
| Thursday | 07:30 - 22:00 |
| Friday | 07:30 - 22:00 |
| Saturday | 08:00 - 19:30 |
| Sunday | 08:00 - 22:00 |
National

National
Locations in Townsville
Terminal Building Garbutt
+61 747 793 891
| | |
| --- | --- |
| Monday | 07:30 - 22:00 |
| Tuesday | 07:30 - 22:00 |
| Wednesday | 07:30 - 22:00 |
| Thursday | 07:30 - 22:00 |
| Friday | 07:30 - 22:00 |
| Saturday | 07:30 - 22:00 |
| Sunday | 08:00 - 22:00 |
Car rental locations in or near Townsville
When to book a rental car in Townsville
Average daily price per month
Car hire prices as pick-up date approaches
Top tips for renting a car in Townsville
Book your rental car in Townsville at least 2 weeks before your trip in order to get a below-average price
Intermediate rental cars in Townsville are around 66% cheaper than other car types, on average
FAQs about renting a car in Townsville
What is the best rental car company in Townsville?
Based on ratings and reviews from real users on KAYAK, the best car rental companies in Townsville are Europcar (7.6, 348 reviews), Budget (10.0, 1 reviews), and Hertz (10.0, 1 reviews).
How can I find car rentals near me in Townsville?
Take a look at our extensive car rental location map to find the best rental cars near you.
How much does a Intermediate car rental cost in Townsville?
A Intermediate car rental in Townsville costs $92 per day, on average.