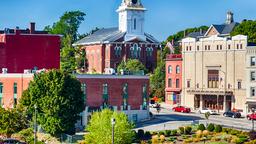 Bangor car rentals
Search hundreds of travel sites at once for car rental deals in Bangor
Bangor, ME, United States
Bangor car rental information
| | |
| --- | --- |
| Pick-up location | Bangor |
| Rental locations | 9 |
| Airport locations | 8 |
Bangor car hire reviews and directory
Hertz

10.0 Excellent (4 reviews)
╳
Hertz reviews
Car hire locations
Hertz
Locations in Bangor
299 Godfrey Blvd Suite 7
+1 207 942 5519
| | |
| --- | --- |
| Monday | 08:00 - 23:00 |
| Tuesday | 08:00 - 23:00 |
| Wednesday | 08:00 - 23:00 |
| Thursday | 08:00 - 23:00 |
| Friday | 08:00 - 23:00 |
| Saturday | 09:00 - 17:00 |
| Sunday | 08:00 - 23:00 |
10.0 Excellent
25 Feb 2017
Great service
Pros:
The woman at the rental counter was friendly and efficient. I plan on renting from Hertz and using Kayak for the best prices.
10.0 Excellent
28 May 2017
Pros:
easy, friendly, made changes quickly and without hassle
10.0 Excellent
12 Jul 2017
All good
Pros:
Car ready paperwork minimal
10.0 Excellent
13 Aug 2017
Pros:
Nice and helpful service
National

10.0 Excellent (1 review)
╳
National reviews
Car hire locations
National
Locations in Bangor
299 Godfrey Blvd
+1 844 366 8835
| | |
| --- | --- |
| Monday | 07:00 - 23:59 |
| Tuesday | 07:00 - 23:59 |
| Wednesday | 07:00 - 23:59 |
| Thursday | 07:00 - 23:59 |
| Friday | 07:00 - 23:59 |
| Saturday | 08:00 - 23:59 |
| Sunday | 08:00 - 23:59 |
10.0 Excellent
17 Sep 2019
Pros:
super friendly service, joined the Emerald club and got upgraded to a car I wound up loving, very easy return
Alamo

╳
Alamo reviews
Car hire locations
Alamo
Locations in Bangor
299 Godfrey Blvd
+1 844 366 2658
| | |
| --- | --- |
| Monday | 07:00 - 23:59 |
| Tuesday | 07:00 - 23:59 |
| Wednesday | 07:00 - 23:59 |
| Thursday | 07:00 - 23:59 |
| Friday | 07:00 - 23:59 |
| Saturday | 08:00 - 23:59 |
| Sunday | 08:00 - 23:59 |
Made a reservation and no car available
Cons:
DID NOT GET A CAR ! Had to go to a different counter and pay three times as much !
8.0 Excellent
29 Jul 2019
Pros:
The location is super convenient. Everything is done through the counter including drop off which is unlike other locations.
Cons:
It would be nice if the drop off had at least one person there to assist. Overall pricing is very high compared to rentals I have had in the past or renting in Bar Harbor.
10.0 Excellent
1 Aug 2019
Great ride
Pros:
It was a great car for my drives in Acadia National Park.
9.2 Excellent
12 Aug 2019
Pros:
Staff was great and drop off easy
Cons:
Pick up line was long and took a while
9.2 Excellent
25 Aug 2019
Pros:
Staff was terrific!
Pros:
The staff at the pickup counter was great, friendly and helpful. Only glitch: he said he'd activated satellite radio, but it never worked.
Cons:
There's no attendant for dropoff and the signage is lacking, but overall, easy enough. The gal at the return counter was pretty unfriendly: unresponsive and if she ever smiled, I missed it.
10.0 Excellent
23 Sep 2019
Pros:
Overall experience was great!!!
Pros:
The truck was clean and neat
Cons:
In comparison to other rental companies like Avis and Budget, their rental system and computer systems seem far outdated. Would go with my usual choice of budget if renting again.
9.2 Excellent
18 Nov 2019
Cons:
The way they do the gas is confusing. They make you guess up front how much gas you're going to use. Why not just give you a full tank and have you pay at market price for the amount you use?
Enterprise

╳
Enterprise reviews
Car hire locations
Enterprise
Locations in Bangor
1105 Hammond St
+1 207 942 3772
| | |
| --- | --- |
| Monday | 08:00 - 18:00 |
| Tuesday | 08:00 - 18:00 |
| Wednesday | 08:00 - 18:00 |
| Thursday | 08:00 - 18:00 |
| Friday | 08:00 - 18:00 |
| Saturday | 09:00 - 15:00 |
| Sunday | 09:00 - 15:00 |
Cons:
The car was dirty and smoke smell. and also they addedd $20.00 more than quoted to online price.
Super helpful staff!
Pros:
Friendly staff!!! Worked with us to provide the appropriate vehicle for our needs.
Cons:
It was a pricey rental, albeit a busy time of year.
Maine
Pros:
The staff was very friendly and helpful. The car worked perfect for what I needed and didnot think it was over priced. I will add again the staff was great there very very nice.
Cons:
I did not like that I had to take a shuttle from the airport. My big problem is when I dropped my car off I had a flight to catch, but I had to wait att he enterprise store which is 5 miles from the airport for the shuttle to return. I ended up having to wait 15 minutes.
10.0 Excellent
18 Sep 2016
Ryan in Bangor was awesome...
Pros:
Ryan was so good with my rental ..
Cons:
Kind and courtesy was his strength.. Smart too
9.6 Excellent
10 Oct 2016
10 minutes a ride and you are there !
Pros:
easy access, they pick you up just minutes after you call, Its such a small airport, this was so was and saved money! Realy quick, good service!
Cons:
my bill was 20.00 higher then I expected.the wind shield was dirty , but we just wiped it at the first gas station.
9.2 Excellent
17 Oct 2016
Pros:
The people at the Bangor location were very nice - although I have to once again say that I have never had a better experience than what we have come to expect from Lance Reardon at your Ellsworth facility ...Lance is THE man!!!
Cons:
It is a very minor thing to mention, but I dislike when I get a car that has less than a full tank - it is easy to fill up before returning but I invariably overfill when I was given a car that was 3/4 or less
Chaos
Cons:
Had rented an intermediate level car for fuel efficiency for the long one way drive. After waiting 30+ minutes for the rental shuttle to come to airport, we were taken to a dirty building that was chaotic. They didn't have enough rentals so it was either take the inefficient SUV or wait even longer for another return. The SUV was dirty as well. The return location at Trenton airport lacks signs on the road telling you which lot to drop it off in as well as the prerecorded message when you call the location doesn't help.
Budget

╳
Budget reviews
Car hire locations
Budget
Locations in Bangor
299 Godfrey Boulevard
+1 207 945 9429
| | |
| --- | --- |
| Monday | 07:00 - 23:59 |
| Tuesday | 07:00 - 23:59 |
| Wednesday | 07:00 - 23:59 |
| Thursday | 07:00 - 23:59 |
| Friday | 07:00 - 23:59 |
| Saturday | 07:00 - 23:59 |
| Sunday | 07:00 - 23:59 |
9.2 Excellent
20 Jul 2016
Drop off is slightly confusing
Pros:
Everything went well: they were polite and professional and efficient. The car was in great shape and easy to drive. No one tried to scam me and claim I damaged the car weeks after I left it (so far).
Cons:
Dropping off at the Bangor airport was a little confusing - there was no one in the rental car return parking lot and all of Budget's parking spaces were full. I had no idea what to do, and they had not given me any direction about drop-off when I rented the car. However, this was easily solved: I just called the number they provided, a live human inside the airport answered, and gave me clear and useful instructions from there.
10.0 Excellent
23 Aug 2016
Pros:
Quick and friendly service
10.0 Excellent
22 Apr 2018
Easy
Pros:
Couldn't have been easier, in and out in no time. Car was great too.
10.0 Excellent
28 Dec 2015
Pros:
the girl that attended to me
8.8 Excellent
18 Apr 2016
Let's clean the windows!
Pros:
Staff, very nice. Ford Focus provided a comfortable quiet ride, handled well and had nice features, including a cruise control that a had a digital display allowing you to see exact speed that you were set. The side view mirrors provided great visibility .
Cons:
Picked up car late at night & didn't realize that all of the windows needed cleaning.
10.0 Excellent
20 Jun 2016
Great car rental
Pros:
The Ford Fusion was the perfect car for our sometimes group of 5.
Left stranded at the airport
Pros:
Clerk was very knowledgeable and polite. She was helpful enough to point me to two competitors who were happy to rent vehicles to me (and to upgrade me at no charge).
Cons:
Learned upon arrival that the debit card I paid with would not be accepted. After significant back-and-forth I just went to Enterprise. Went $200 over budget but at least I got home.
8.0 Excellent
23 Aug 2016
Cons:
Due to a canceling of our flight by American Airlines, we had to drive to Boston Logan Airport to catch a flight home. Returning the car cause me to stand in line for an hour!!! Even with 5 employees/agents!!
Good choice in BGR
Pros:
Clean, well-functioning car; friendly staff
Cons:
Computers were down so long wait for pick-up
Reservation not accepted
Pros:
Price quote reservation
Cons:
Budget Bangor Airport didn't accept reservation. We were charged much more than upon online Kayak reservation. Very disappointed. Please refund
Avis

╳
Avis reviews
Car hire locations
299 Godfrey Boulevard, Suite 9
+1 207 947 8383
| | |
| --- | --- |
| Monday | 07:00 - 23:59 |
| Tuesday | 07:00 - 23:59 |
| Wednesday | 07:00 - 23:59 |
| Thursday | 07:00 - 23:59 |
| Friday | 07:00 - 23:59 |
| Saturday | 07:00 - 23:59 |
| Sunday | 07:00 - 23:59 |
Bait and switch
Cons:
Lack of flexibility at pick up.
10.0 Excellent
6 Sep 2016
Pros:
Great rate on the car that was exactly what I needed.
Cons:
Would have loved for it to have included EZPass access.
9.2 Excellent
23 Jul 2017
Excellent rental service
Pros:
The agent recognized the hatchback we had been assigned would be a tight squeeze with our car seat and luggage. she gave us complentary upgrade and sent us happily on our way!
Cons:
I did not like the previous passenger
10.0 Excellent
15 Aug 2017
Easy Drop
Pros:
Simple drop-off. Took less than 5 minutes. Drop-off was at airport.
Terrible
Cons:
They wouldn't let me have the car bc my card I'd prepaid in full with was a MasterCard debit card (instead of a credit card), & also bc my return flight location didn't match the location I was dropping off the rental car. The man a the counter said he couldn't refund me, but gave me a 1-800 number to call instead. I spent about an hour on the phone during my vacation trying to get refunded. One time I was on hold for 20 minutes and the lady accidentally disconnected our phone call, so I had to call & go through the entire process again.A rental car company two counters over was more than happy to rent to me with my debit card & return flight that didn't match the car drop off, with a price considerably less than Avis's. I will never rent from Avis again.
Pros:
Vehicle was fine until it rained. Tires were bald and it was a danger on the road
Cons:
Replace the tires before someone is seriously hurt
Easirent

Easirent
Locations in Bangor
Bangor International Airport
| | |
| --- | --- |
| Monday | 00:01 - 23:59 |
| Tuesday | 00:01 - 23:59 |
| Wednesday | 00:01 - 23:59 |
| Thursday | 00:01 - 23:59 |
| Friday | 00:01 - 23:59 |
| Saturday | 00:01 - 23:59 |
| Sunday | |
Sunnycars

Sunnycars
Locations in Bangor
55 travellers who rented a car in Bangor gave the car agency they used an average rating of 7.7
Car rental locations in or near Bangor
When to book a rental car in Bangor
Average daily price per month
Car hire prices as pick-up date approaches
Top tips for renting a car in Bangor
Nothing calls for a hire car quite like the scenic roads of Maine. It is highly suggested that visitors to Bangor take the chance to admire the scenery and there's no better way than driving the roads yourself. One great option for visitors is to take a drive down to Acadia National Park (43 miles away). Additionally, like many cities in the U.S., private vehicles are by far the most convenient means of transport in Bangor.
Looking to rent a vehicle right when you arrive in Bangor? If you are flying into Bangor International Airport, you will find the hire car counters located in adjacent to Baggage Claim on the first floor of the Domestic Terminal.
Bangor, like much of Maine, has its fair share of wildlife. It is highly advised that drivers keep their eyes open when driving on rural roads and highways, especially at night. Wildlife appear in higher numbers in the summer and spring, so be particularly cautious during the warmer seasons.
Luckily for visitors and commuters in Bangor, traffic in the city is very light. During the work week, drivers can expect to experience a slight increase in congestion around 7:00 a.m., lasting until 9:00 a.m. During the afternoon and evening the traffic picks back up again just around 4:00 p.m. and cools off at around 5:30 or 6:00 p.m. If you are looking to avoid traffic during your time in Bangor, then Main Street and Union Street are the two roads to skirt around during rush hour.
Book your rental car in Bangor at least 1 week before your trip in order to get a below-average price
FAQs about renting a car in Bangor
What is the best rental car company in Bangor?
Based on ratings and reviews from real users on KAYAK, the best car rental companies in Bangor are Alamo (8.7, 6516 reviews), Enterprise (8.5, 12851 reviews), and Budget (7.4, 4245 reviews).
How can I find car rentals near me in Bangor?
Take a look at our extensive car rental location map to find the best rental cars near you.
What type of car is recommended for driving in Bangor?
Bangor's streets are well suited for all sizes of vehicles. Sedans, coupes, SUVs, and even large trucks will all be perfectly comfortable on the road, so all vehicle options are a good choice for renters. Additionally, streetside parking spaces are large enough for even the biggest of hire vehicles, so parking is a non-issue.
What's the speed limit in Bangor?
Speed limits start out at 25 mph for residential, downtown, and shopping areas in Bangor. Aside from that, 30 mph and 40 mph speed limits are seen posted on the main roads and larger streets in the city. Additionally, highways, and expressways in the area feature speed limits from 70 to 75 mph.
How are gas prices in Bangor?
Car renters will be happy to hear that petrol prices are quite cheap in Bangor. The average price per gallon is about $2.25, which is significantly cheaper than the average price in Salt Lake City at $2.75 per gallon and is only slightly more expensive than Dallas' average price of $1.80 per gallon.
Where are the best places to park in Bangor?
Parking garages are one of the better options for drivers in Bangor. Parking spots in the downtown area, especially near shopping areas, fill up quickly during the week so garages are often your best bet for guaranteeing a parking spot. Streetside parking is still available, though; it is just limited in quantity during the peak hours of the day. Paid parking in the downtown area costs around $1.00 per hour on average.