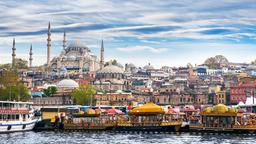 Hotels near Istanbul Ataturk Airport
Search hundreds of travel sites at once for Istanbul Ataturk Airport hotels
Best hotels near Istanbul Ataturk Airport
Based on 64 reviews
Amenities
10.0
Room
8.6
Vibe
8.5
Service
6.9
Comfort
6.0
---
Pros:
It is a fantastic place to rest while combining sports activities. The sport facilities are amazingly thought and very organized. The service is quite well although very few people talks or understand English. Very good service and help especially from the concierge boy named Mert (keep it up! and well done!) The rooms are perfectly designed however it's very uncomfortable for the bedside plugs and sockets. We're are pleased in general...
Cons:
No buffet breakfast
Pros:
Amazing place. Good service, good food, amazing room and fantastic facilities.
Cons:
Nothing. Everything was great.
Pros:
Nature and big silence around.
Cons:
Very cold restaurant, poor breakfast.
Pros:
Perfectly located close to the airport 20-25 minutes but still in a very quiet and nice surroundings. We played golf and the hotel was located on the golf course, very convenient. The staff at the hotel and golf club were friendly and helpful. Easy to take a taxi to Istanbul and enjoy fantastic restaurants and a great city.
Cons:
The hotel restaurant and the bar could have been more busy and open longer in the evenings.
Pros:
Very clean, spacious rooms, nice terrace Nice bathroom Close to the airport, green surrounding Very friendly personal
Cons:
Cold floor in the bathroom
Based on 1,848 reviews
All reviews
Families
Solo
Couples
Business
Vibe
9.4
Value
9.0
Service
8.1
Room
7.8
WiFi
7.1
Vibe
9.3
Value
8.9
Service
8.1
Room
6.8
Breakfast
6.7
Value
9.2
Service
8.4
Comfort
8.1
Room
8.0
Breakfast
7.2
Value
9.1
Comfort
7.7
Service
7.6
Room
7.2
Location
6.9
Service
8.0
Comfort
7.5
Room
7.4
Cleanliness
7.3
Location
6.3
---
Pros:
Having been let down by a prior booking this hotel were extremely accommodating. Everything was perfect after the initial stress caused by another hotel. I would highly recommend this professional and quality hotel
Pros:
breakfast is exceptional with all the local as well as western treats
Cons:
musty smell in the hallways , hot water was warm & not hot
Pros:
Clean, rooms, very friendly and helpful staf, the breakfast was good, the car park was great
Cons:
The room was badly maintained, faulty study lamps, window was faulty and couldn't get closed properly and therefore noise was easily heard, closing the sliding door of the toilet was annoying, I had to change the room. The filtered coffee was really bad
Where to stay in Istanbul?
Our Heatmaps tool will help you find the perfect place to stay in Istanbul by showing you how close hotel options are to major activities
Popular in Istanbul
Accommodations
Airports in Istanbul
Neighbourhoods in Istanbul