You're Going to Love Ekaterinburg
Ekaterinburg may not thrill you with outstanding monuments or picturesque streets, but don't be fooled by the unassuming exterior; the city has played a key role in Russia's history and is a busy regional capital for business, arts, culture and entertainment. Located where Europe meets Russia, the city makes a great starting point for exploring the Ural Mountain region.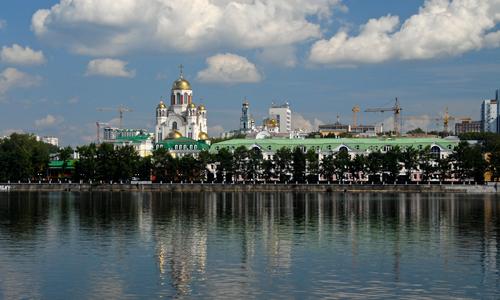 Top 5 Reasons to Visit Ekaterinburg
1. Explore Dramatic History
Ekaterinburg has seen the onslaught of miners lured by the gemstones in the Ural Mountains. It was also the scene of the execution of the Romanov family during the Revolution. You can explore the city's storied past at museums and historic sites like the decorative Railway Museum or the Romanov Death Site.
2. Eat, Drink and be Merry!
As the capital of the Ural region, the city has a growing and thriving restaurant scene with everything from traditional Russian favorites to Asian fusion on offer, along with bars, lounges and night clubs to suit every taste.
3. Arts & Culture
The city boasts many fine and impressive museums, such as the Architecture and Design History Museum and the Yekaterinburg Museum of Fine Arts which includes a separate Vaynera Branch featuring a collection of Russian avant-garde works.
4. The Great Outdoors
No matter what the season, you can count on outdoor fun, including cross country skiing, horseback riding, paragliding and hiking trails. There is also a traditional zoo and a petting zoo that allows you can get up close and personal with the animals.
5. Gemstones and Jewelry
The Ural Mountains contain a wealth of precious and semi-precious gemstones, and Ekaterinburg has been a center for the jewelry trade for centuries. You can explore the city's many shops or visit the popular State Stone-Cutting and Jeweller's Art History Museum or Ural Geological Museum.
When to Visit Ekaterinburg
Most people visit Ekaterinburg during the warm and relatively wet summer months between May and September, when average temperatures range between 57°F and 75°F.
How to Get to Ekaterinburg
Plane
Koltsovo Airport (SVX) is located about 11 miles south of the city, serving both domestic and international flights. the RUB26 bus on the City Bus #1 route makes the trip to the main railway station.
Train
The Yekaterinburg-Sverdlovsk Railway Station is a major hub on the Trans-Siberian route, with connections throughout the region.
Car
Ekaterinburg is well connected to major centers throughout the Urals via a network of highways.
Bus
Ekaterinburg is a major hub for intercity bus travel, with easy connections to Chelyabinsk, Ufa, Parm and Sochi.
Airports near Yekaterinburg
Airlines serving Yekaterinburg
Show more
Where to Stay in Ekaterinburg
Stay in stylish modern rooms in a historic buildings at the Hotel Chekhov. Marins Park offers comfortable rooms in a convenient location near the train station.
Popular Neighborhoods in Ekaterinburg
Downtown - This is where you'll find the city's commercial and business areas, including the Vysotsky skyscraper, Siberia's tallest building.
Shirokaya Rechka - This area is where you'll find one of the city's more unusual attractions: a Mafia cemetery on the river.
Kirovskiy Rayon - This residential area is where you'll find Lake Shartash, where you can escape the city to go cycling or swimming.
Where to stay in popular areas of Yekaterinburg
Most booked hotels in Yekaterinburg
How to Get Around Ekaterinburg
Public Transportation
The city is served by an extensive network of trams, buses and an underground metro. Single fares are RUB26.
Taxi
Taxis are plentiful in the city center, with fares that start at RUB70, increasing by RUB11.26 for each kilometer (0.6 mile).
Car
Traffic can be daunting in the city center but can be a good way of getting around the area. A compact rental starts at RUB2100.
The Cost of Living in Ekaterinburg
Shopping Streets
The so-called Chinese Market is a huge area in the western part of the city, where you'll find hundreds of stalls with everything you can imagine for sale. For more upscale shopping, you'll want to check out Vaynera Street in the central area of the city.
Groceries and Other
Eliseyskiy and Kirovskiy are two of the larger supermarket chains in the city, and you'll also find a large supermarket at the Mega Ekaterinburg Mall just outside the city. A quart of milk costs about RUB48 and a dozen eggs RUB65.
Where to Eat in Ekaterinburg
Enjoy Uzbek specialties like manti (steamed dumplings) at Nigora, where mains start at RUB200. For an upscale dining experience of pan-European cuisine, choose Vertikal, where mains start at RUB850.