You're Going to Love Baguio
The Philippines' "summer capital" is a mountain retreat from the craziness of Manila and Quezon City, but it's not just a place to recharge your batteries after experiencing the lowlands. This highland city is a hive of artistic energy, a thriving student hub, a place to experience the riches of pinoy culture, and it even has strong historical links with America.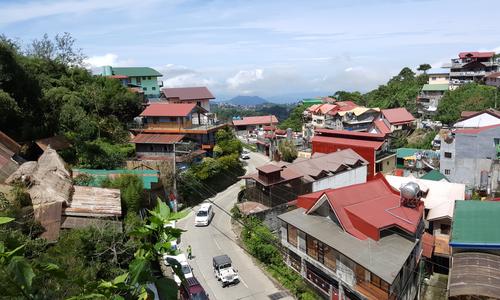 Astonishing natural wonders await visitors, from the cloud forests around Mount Pulag to the exquisite Bridal Veil Falls, while the city itself presents an enchanting multicolored sight as it tumbles down the hills around its cathedral. An unexpected treat for visitors to the Philippines, Baguio is well worth some of anyone's time.
Top 5 Reasons to Visit Baguio
1. It's the Gateway to Luzon's Stunning Scenery
Baguio itself is beautiful, but it's the cordillera surrounding the city that really astounds. Whether you head to the picturesque rice terraces of Banaue or the jagged valleys of Kalinga, jaw-dropping scenery is never too far away.
2. The Vibrant Student Scene
Baguio is home to a massive student population of 250,000, and it shows in the city's artistically inclined, fun-loving vibe. From live country and jazz music to bowling alleys and craft ale bars, it's a place where the evenings tend to be fairly busy.
3. History Around Every Corner
Baguio's history is full of interest for American visitors, from the converted airbase at Camp John Hay to the splendid city park laid out by an American visionary. In fact, the city was once called "little America", and it still has close trans-Pacific ties.
4. Great Markets and Food
With a wealth of pinoy restaurants, cosmopolitan chefs from Europe and the rest of Asia, and some of the world's finest coffee, Baguio is an unheralded but incredible foodie destination.
5. The Cool Upland Climate
Baguio is 4,900 feet above sea level, which gives it a completely different climate to Manila, and one which is cooler and much more pleasant.
What to do in Baguio
1. Visit Camp John Hay
Once a US air base, Camp John Hay is home to golf courses and stables where you can saddle up to explore forest trails, and it has a wonderful butterfly sanctuary, gorgeous gardens, and the unique "negativist" cemetery - where negative thoughts are symbolically buried.
2. Stock Up on Souvenirs at Tam-awan Village
This reconstructed tribal village (or "garden in the sky") is both historically fascinating and a treasure trove for art lovers. Have your portrait drawn, see sculptures made by Ifugao artists, and browse the collection of locally woven bags and baskets to find some unique gifts.
3. Go Hiking at Mount Pulag National Park
Mt. Pulag is a fantastic place to hike and absorb some mountain scenery. Luzon's highest peak is around 30 miles northeast of Baguio, but you can get there easily by car or join organized tours. Following the Akiki Trail with a professional guide (PHP2,400) is the best way to take it all in.
4. Relax at Asin Hot Springs
Being in a geologically active zone has its benefits - including access to thermal springs. Head to Asin Hot Springs to soak in your own private sulfur-rich pool. If you take meat or seafood along, you're free to cook up a barbecue at the resort's grilling stations as well.
5. Take Some Snaps at Bridal Veil Falls and the Lion's Head
Baguio's location in Luzon's cordillera means that photo opportunities abound, but few places are as beautiful as Bridal Veil Falls. Along the way, stop at Lion's Head to pose with the city's iconic sculpture, which is cut into the cliffs on Kennon Road.
When to Visit Baguio
Baguio enjoys relatively mild weather, and the temperatures vary very little all year round. The months from March to June tend to be the busiest (particularly during the Holy Week celebrations), along with December when locals take Christmas vacations. So avoid those periods if you're looking for a tranquil, low-cost escape.
How to Get to Baguio
Plane
The closest airport to Baguio is Clark International Airport, just north of Manila - around 110 miles away. From there, you can catch buses with 5 Star or Victory Liners (which take 6 hours and cost PHP500-1,000). A taxi will set you back about PHP5,000, but should be slightly quicker.
Car
If you intend to hire a car at Clark International Airport, driving to Baguio is easy. Take the E1 expressway straight to the upland city. If you're coming from Ninoy Aquino Airport, remember to bypass Manila via the AH26 along the way to avoid the capital's traffic.
Bus
Victory is the main operator on the Manila to Baguio route, running hourly services from their Monumento terminal in Caloocan City, a northern suburb. Buses take 6-8 hours and cost PHP400-1,000. Dagupan also run buses from their New York St terminal in Cubao, Quezon City for around the same fare.
Where to Stay in Baguio
Central Baguio is the place to look for luxury hotels, and the city's popularity as a summer resort means that there's plenty of choice. The Burnham Suites on Kisan Road is central and offers a fine international restaurant on-site, while the homely Hotel Veniz is conveniently located for the public market. If you want to stay in a more secluded spot, the Manor at Camp John Hay is hard to beat. At the heart of the city, Session Road is a great place to base yourself, with plenty of decent shopping, dining, and nightlife options, while Camp John Hay blends fine hotels, golf courses, riding schools, theater performances at the Bell Amphitheater, and a range of beautifully kept gardens and forest trails.
Where to stay in popular areas of Baguio
Most booked hotels in Baguio
How to Get Around Baguio
Public Transportation
There is no public transport in Baguio itself. Ohayami Trans offer buses from the city to Banaue's dramatic rice terraces, while buses also travel to Bontoc, putting Kalinga within reach.
Taxis
Taxis are the primary means of transportation in Baguio. Expect a flag drop of PHP35, followed by around PHP25 per mile after that (which is usually calculated in increments of PHP1.5-2 per 320 feet).
Car
Driving is a convenient option, with ample parking in destinations like Camp John Hay (but fewer spots in the center, so beware). Companies like Avis and Enzo Rent A Car Baguio offer rates of approximately PHP1150-1300 per day for an average-sized vehicle.
The Cost of Living in Baguio
Shopping
The starting point for shoppers is Baguio City Market at the end of Session Road, where you can pick up antiques, locally made rice wine and Arabica coffee, silver jewelry, or handwoven blankets. After that, head up Session Road to browse the boutiques and stop at a resto, before hitting SM City Bagiuo, the city's premier shopping complex. Other great places to snap up souvenirs include Mines View Park and Harrison Road night market, which is famous for its flower stalls.
Supermarkets and Food Stores
The City Market is an excellent place to shop for fresh produce, but Baguio also offers conventional supermarkets like C & Triple A Supermart or Robinsons. Prices aren't too high; expect a gallon of milk to cost about PHP320 and 12 eggs to be in the ballpark of PHP72.
Where to Eat in Baguio
Café Adriana by Hill Station focuses on Spanish cuisine and commands amazing views across the cordillera. The Baguio Craft Brewery mixes 18 craft beer taps with high-quality burgers and other pub classics, while Vizco's Restaurant and Cake Shop blends sublime cakes with pinoy dishes like chicken tocino or boneless bangus. Meals aren't usually expensive, and you can enjoy a 3-course feast for PHP150-300.