Business travel.
Made simple.
At KAYAK, we wanted a better way to plan and manage our own business travel. But we found tools with limited inventory, outdated interfaces, hidden costs and fees that seemed unreasonable. We just wanted something like KAYAK – easy and free – so we built it.
It's easy to get started.
Save time
We search 2,500+ travel providers, so you don't have to. Find flights and hotels from across the internet to plan the trip that's best for you.
Save money
Get corporate rates on the best flights and hotels with no subscription or additional fees. (Yes, that means "for free.")
Save the hassle
Keep all your bookings in one place, and easily submit receipts, track travel spending and see where and when your team is travelling.
What can you do with KAYAK for Business?
Plan
Get your best trip, in budget
Search hundreds of travel sites to find great deals and plan travel your way. Your travel policy (if you have one) is part of the search so it's easy to follow, and if you need approval, it's only a click away.
Manage
Keep all your bookings in one place
Automatically create travel itineraries with your flights, boarding passes, hotel and restaurant reservations. The KAYAK app stores everything for you and keeps you up-to-date so you can focus on your business, not your travel.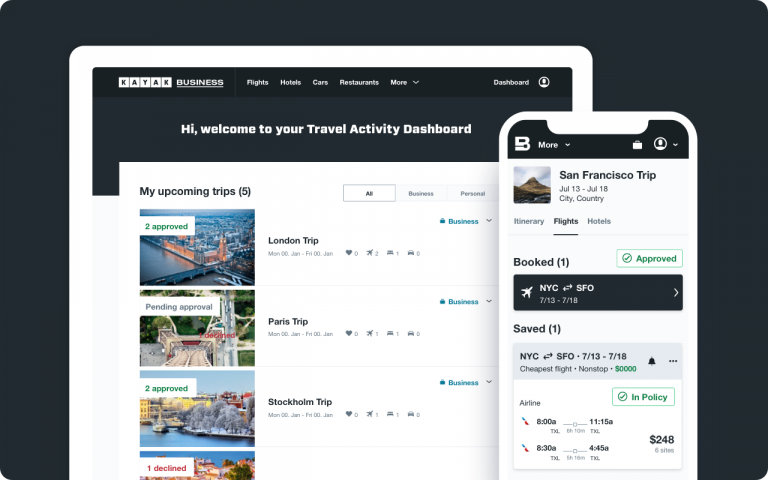 Report
Keep tabs on spending
Easily organise and submit receipts, track travel spending, and visualise where your team is travelling. And if you use Expensify, KAYAK for Business will automatically import receipts and create expense reports for your trips.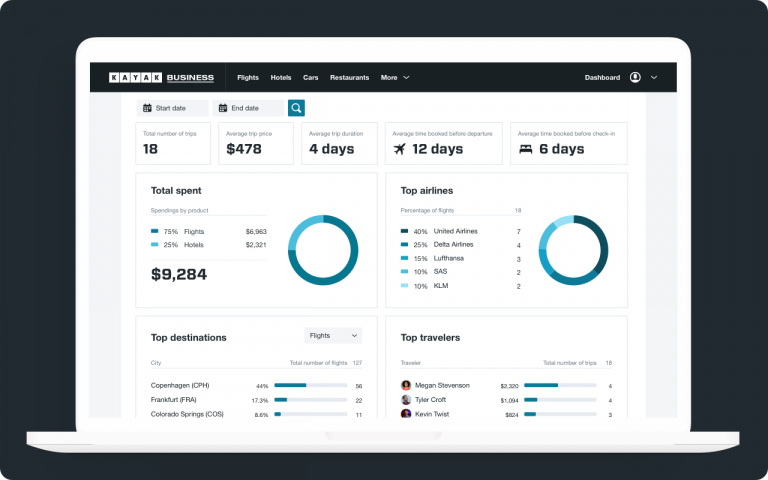 Save
Access corporate rates and KAYAK savings
Get all the savings of KAYAK, the world's leading travel search engine, and access to additional corporate rates on flights and hotels. All for free.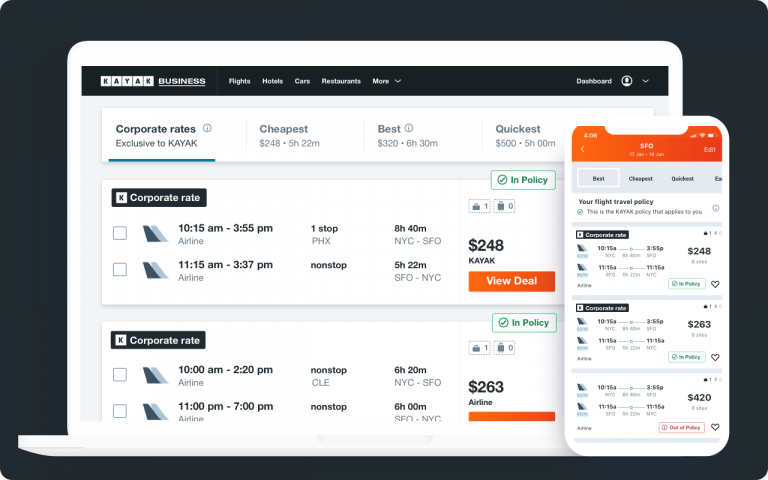 Something for everyone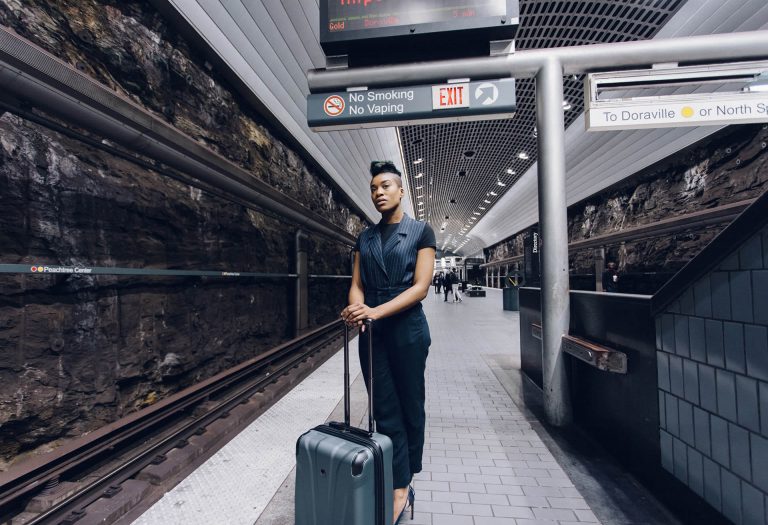 Business travellers
More options
Select your flights and hotels from thousands of providers on KAYAK.
Easy planning
Instantly create itineraries and save everything you need in one place.
Award-winning app
Stay one step ahead with real-time alerts and all your bookings at hand.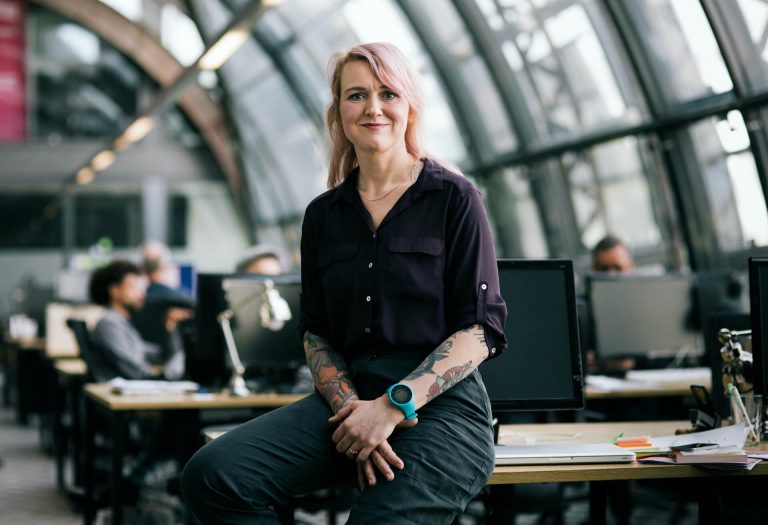 Travel managers
Compliance
Keep travel on-budget with intuitive policies in a tool your team will like to use.
Structure
Simplify approvals and keep track of your team's travel.
Control
Cut travel costs by adding your travel policies to KAYAK search.
Why join KAYAK for Business?
Built by business travellers, for business travellers.
No matter how hard we looked, we couldn't find an effective way to plan and manage our business travel at KAYAK.
Other platforms lacked choice and simplicity, and the only thing they did have in abundance was fees.
We thought there should be a better option. One like KAYAK – easy and free – that offered a single place to plan, manage, and report on business travel (while still getting the best deals).
Our platform is the end of business travel as you know it. Welcome to KAYAK for Business.
It's easy to get started.
And free. Two things everyone loves.
Frequently Asked Questions
KAYAK for Business is a set of features layered on top of the existing KAYAK website. With an account you can do the following:
See what results are in and out of policy
Send out of policy results for approval to your manager
Approve trips on KAYAK.com, email, or via Slack if you have approval rights
Get access to corporate fares in the future
Unlike most business travel platforms, KAYAK for Business doesn't sell or process your tickets and reservations. Instead, we search many airlines, travel agents and hotel sites to find the best prices and availability, which gives you the flexibility to book with the site you want. We make sure to find you the options that you need for business travel.
Make sure you log in with your work email. KAYAK for Business doesn't work with your personal @gmail.com or @hotmail.com emails. If you have questions about getting access, reach out to us via the help section on kayak.com.
If you booked your travel on the KAYAK site with one of our providers, then you can go to Bookings and get info on 24/7 support. If you booked your travel outside of KAYAK or were redirected from our site to a provider's web page to complete your booking, then you'll need to touch-base with the provider directly. Not sure who your provider is? Check your credit card statements to see who charged your card.
Because we're searching hundreds of other travel sites at once, sometimes there are accuracy issues from the information we're receiving from those sites. Either the site isn't updating their inventory with us, has given the wrong path or another traveller has booked the last available seat.
Because KAYAK is a search engine, not a seller, we don't have a refund policy — that's handled solely by the provider that booked your trip. Not sure what company to talk to? Check your credit card statement and/or go to Bookings to locate your provider's information.